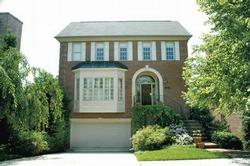 Valerie Plame Wilson and Mark Foley, stars of hot scandals this year, are exiting the stage. Both sold homes recently. Maybe they're sick of the limelight, or maybe they're just looking for a change of scenery after a tough year.
Wilson and her husband, retired diplomat Joseph Wilson—headliners in the Robert Novak-Scooter Libby leak case—sold this five-bedroom, five-bath Georgian Colonial in Foxhall for $1.8 million. The house has views of the Washington Monument, double decks, a library, and a two-car garage.
After resigning last fall—in the wake of a scandal involving sexually explicit instant-message conversations he had with teenage Hill staff—former Florida congressman Mark Foley also left town. He collected $899,000 for a two-bedroom, three-bath Federal-style rowhouse on Capitol Hill.
If these point to a new trend, we may see "for sale" signs in front of the homes of Libby or beleaguered former Smithsonian head Lawrence Small.