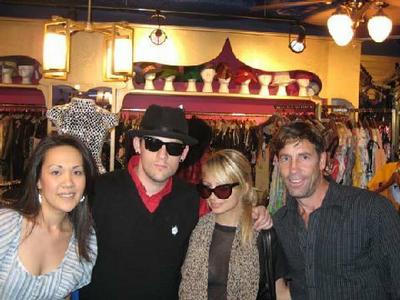 Annie Lee and Garrett Bauman would pitch their Ted Lapidus vintage sunglasses to customers by reminding them that celebrity socialite Nicole Richie sports the same shades. So they saw the incredible irony when Richie and fiance Joel Madden of Good Charlotte, stopped by their Georgetown vintage shop, Annie Creamcheese, last week. The purchase of the day? A $275 pair of brown-tinted Ted Lapidus sunglasses.
Madden, who had visited the high-end vintage shop on M Street twice before, decided to bring with his newly pregnant fiancée while in town for a concert at the Clarendon Ballroom. In addition to the sunglasses, Richie also took home a $199 off-white, Courreges scarf.
The couple were "very down-to-earth," said Lee who pitched the store's accessories to Richie. Richie, Bauman explained, "wasn't in the mood to look at dresses because her body is changing," but she was drawn to the accessories. Madden meanwhile bought a "grandpa-like cardigan sweater," along with a small fedora hat and a few t-shirts, but nothing brand name.
After 20 minutes in the store, a photograph with shoppers and a promise by Richie to visit Lee and Bauman's new store location in Las Vegas, the couple made their way out the door.
This isn't the first time a fashionista or a celebrity has stopped by the store. Recently, Camila Al-Fayed, sister to one-time Princess Di beau Dodi Al-Fayed, spent $5,000 at the store and MSNBC's Tucker Carlson stopped in to pick up some duds for a '70s-themed party he was attending. Fashion designers Tory Burch and Nannette Lepore are also customers.