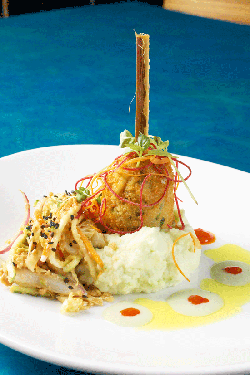 In the annals of cursed restaurant spaces, the cavernous dining room at 4936 Fairmont Avenue in downtown Bethesda is a doozy. In the past six years, it's been home to the Fairmont Bar & Dining, Toritos Mexican Grill, Bistro Asiatique, and most recently, the second location of Annapolis fusion-sushi restaurant Yin Yankee, which opened in May. But sadly, the Bethesda Yin Yankee is now in the past tense, too.
According to general manager Nancy Mola, head chef—sorry, he prefers gastronaut—Jerry Trice is back at the original Annapolis kitchen and the Fairmont Avenue space is already on the block. And while the over-the-top marine-themed dining room (seriously, you could just picture Daryl Hannah floating through in full mermaid regalia) never seemed quite right for this quiet suburban street—many neighborhood families looked mildly alarmed when the drum 'n' bass was pumped up in the middle of dinner—we'll miss some of Trice's unabashed creativity. Namely, the Serrano-ham-and-crab chowder, the chili-dusted fried calamari, and the noodle bowls with pineapple and tofu or lobster and grapefruit. Lucky for us, though, they're all on the menu in Annapolis.


Yin Yankee, 105 Main St., Annapolis; 410-268-8703; yinyankee.com.