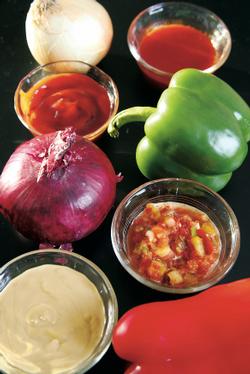 Guinness Mustard
From Nathan Anda of EatBar (2761 Washington Blvd., Arlington; 703-778-9951)
In a large, heat-safe bowl, place ¾ cup Guinness stout, 3 eggs, ¾ cup dry mustard, 1 teaspoon salt, ½ teaspoon Worcestershire sauce, 2 tablespoons brown sugar, and 2 tablespoons white-wine vinegar. Whisk until combined, then place the bowl in a double boiler over medium heat. Cook, whisking occasionally, until the mixture has thickened enough to coat the back of a spoon, about 10 to 15 minutes. Chill, then serve.
Chipotle Ketchup
From Antonio Burrell of Eleventh Street (1041 N. Highland St., Arlington; 703-351-1311)
Coat the bottom of a saucepan with olive oil and warm over medium heat. Add ¼ diced yellow onion, 1½ cloves minced garlic, and a dash of salt. Reduce the heat to low and cook, stirring occasionally, until the onions are translucent.
Add 1½ cups tomato paste, ¼ cup brown sugar, ¼ cup honey, ½ cup cider vinegar, ½ teaspoon mustard powder, ¼ teaspoon Worcestershire sauce, 1 cup water, 3 chipotle peppers in adobo sauce (strained), and 4½ teaspoons adobo sauce.
Raise the heat, bring to a boil, and reduce heat to a simmer. Simmer until mixture is thick enough to coat the back of a spoon—30 minutes to an hour. Let mixture cool and purée in a blender. Season with salt, pepper, and extra cider vinegar.
Chinese Ketchup
Bob Liu of Bob's Noodle 66 (305 N. Washington St., Rockville; 301-315-6668)
In a bowl, stir together 1½ cups ketchup, ¼ cup pineapple juice, 2 tablespoons miso paste, and 2 to 3 tablespoons hot chili sauce, depending on how spicy you like it (Liu recommends Double Golden Fish brand, available at Korean supermarkets).
End-of-the-Season Tomato Relish
Liam LaCivita of Liberty Tavern (3195 Wilson Blvd., Arlington; 703-465-9360)
In a food processor, finely chop 3 medium heirloom tomatoes and 2 small green tomatoes, then place in a bowl. Use the processor to finely chop 1 green bell pepper and 1 red bell pepper (quarter them first). Add to the tomatoes. Toss with ½ cup minced red onion and 2 tablespoons salt. Let sit for 12 hours. Drain half the liquid from the mixture.
In a medium saucepan, combine ¼ teaspoon celery salt, 1 teaspoon mustard seed, 1 teaspoon sugar, ¾ cup cider vinegar, and ½ cup cool water. Bring to a simmer, then add the chopped tomatoes and peppers. Let simmer 2 to 3 minutes, remove from heat, and let cool before serving.