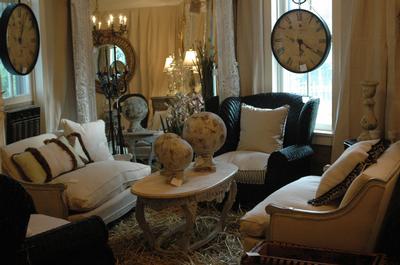 Suzanne Eblen pays close attention to how her customers talk.
Owner of the Old Lucketts Design House in Leesburg, Eblen knows that if their voice rises one or two octaves when they say, "Ohh!," the deal is sealed.
Eblen opened the store, a Victorian home-turned-furniture shop, in 2005 with her best friend, Amy White. They chose the charming, two-story house because she wanted customers to be able to visualize the pieces—both antique and contemporary—in their homes.
Although each of the 12 rooms has a different personality, they share a nostalgic charm: An upstairs sitting room is painted deep pink and furnished in wicker and chintz; the kitchen's sideboard, dining table, and chairs are painted white and have a country-French feel; the living room is sumptuous with warm yellow and chocolate colors, rich fabrics, and heavy ornaments.
Every piece—dressers, desks, vases, and more—is for sale. Prices range from $19 to around $2,500.
The rooms change frequently, giving Eblen and White plenty of opportunities to strive for that high-pitched "Ohh!"
The Old Lucketts Store Antiques and Design House | 42350 Lucketts Road, Leesburg | 703-779-0268