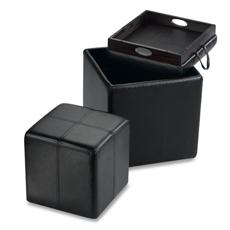 Three's company, four's a crowd. And five? In a small apartment, that's when guests start leaning on door frames and plunking down on the floor. These sneaky seat solutions can make an apartment party more comfortable.
• Faux Leather Storage Ottomans, $69.99. One makeshift stool turns into two with this black ottoman, pictured at right. Available at Bed, Bath & Beyond, multiple locations.
• Eric Pfeiffer Bench Box with Pad on Legs, $549. This squat bookcase doubles as a bench, upholstered in gray or orange wool. Available by order at Apartment Zero, 406 7th St. NW; 202-628-4067. Price does not include shipping.
• David Simon Waterfall Table, $299. Guests can perch on your coffee table in style with this David Simon design, which swoops down into a padded seat on one side. Available by order at Contemporaria, 3303 Cady's Alley NW; 202.338.0193. Price does not include shipping.
• Magino Acrylic Stool/Magazine Rack, $298. Replace your magazine rack with this ultra-modern style, and you'll score an extra seat. Available at Design Within Reach, 3307 Cady's Alley NW, 202.339.9480; 1838 Columbia Rd. NW, 202.265.5640; 4828 St. Elmo Ave., Bethesda, 301.215.7200.