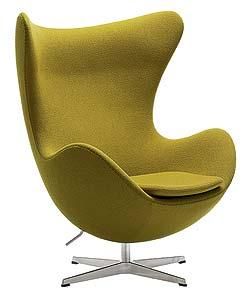 Renowned American architect Philip Johnson was strongly influenced by the visual arts, from sculpture to painting. Beginning March 15, the Kreeger Museum hosts the exhibit "Phillip Johnson: Architecture as Art," which will showcase works of art—including paintings by Jasper Johns and Andy Warhol—that had an impact on Johnson's work. You can support the upcoming exhibition at a silent auction this week at the Georgetown location of Design Within Reach.
Among the items: this egg-shaped chair by Arne Jacobsen, a butterfly stool designed by Japanese industrial designer Sori Yanagi, and a photograph by architectural photographer Richard Schulman. A closing reception on Saturday, September 29, at 3 PM will reveal the winning bids.
Design Within Reach, 3307 Cady's Alley, NW; 202-339-0890.