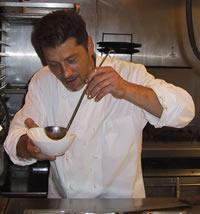 The four-year-old Restaurant Kolumbia fills the bellies of many of K Street's professionals come lunchtime. It's no wonder, because a $9 lunch special gets you such entrées as a juicy kielbasa sandwich or grilled-squid saffron risotto. But on October 27—just two days away—the eclectic American-meets-Eastern-Euro spot will be no more.
We'll miss spending less than ten bucks on chef Jamie Stachowski's handcrafted charcuterie, smothered with purple cabbage between two slices of pumpernickel-raisin-walnut bread. Though Stachowski and wife Carolyn are promising another venture, it could be a while—"somewhere between here and eternity," he says.
But Carolyn entertains the idea of resurrecting the lunch specials when they open a new spot. It all depends on the neighborhood and whether the area can drive a big lunchtime turnout. "I like Dupont," she says. "Then again, we live in North Arlington, and something right out there could be great." NoVa does like to eat lunch . . . but as much as K Street? Perhaps.
Last week, Restaurant Kolumbia was fairly empty around noontime, which seemed a shame with just a handful of days left. Earlier this month, Carolyn sent an e-mail to media and friends about the forthcoming closing, but business has been about the same, minus a few extra hugs from diners. All we recommend is that you snag a stool at the bar this week—before $9 is just another forgettable turkey on wheat around the corner.
Restaurant Kolumbia's $9 lunch special is available between 11:30 AM and 2 PM until Friday, October 26 (the restaurant's final dinner will be served October 27). The menu includes the kielbasa sandwich, squid risotto, Cuban-style plantains with rice and beans, and an Alsatian grilled pizza.

Restaurant Kolumbia, 1801 K St., NW; 202-331-5551; restaurantkolumbia.com.