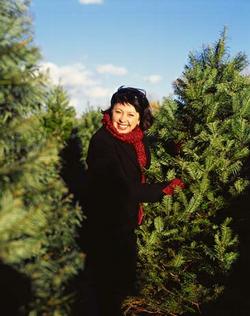 The Skinny on Tree Taxonomy
Douglas firs are a good choice for those allergic to other varieties, such as pine or spruce. The slimmer Douglas firs also nestle into small spaces well.
Spruces are generally fatter at the bottom. A Colorado blue spruce's branches are stiff with short needles—perfect for weighty ornaments. According to historical lore, German soldiers introduced the Norway spruce to the United States during the Revolutionary War. Known for its classic Christmas-tree shape, the Norway spruce doesn't live as long as other tree types.
Pine trees are another type to consider. Families like white pines for their pretty, triangular shape and soft needles. Downside: They may not be able to support heavy ornaments. Scotch pines are a heartier alternative, but the needles are more prickly.
Do It Yourself: Christmas-Tree Farms
When you buy a tree at a farm, you're buying the experience of spending time with family, hiking, searching out the perfect tree, chopping it down, and yelling "timber" as it falls.
"You're not going to find the love of your life right outside your car," says Frans J. Kok, owner of Middleburg Christmas Tree Farm, home to more than 2,700 trees on 125 acres in Loudoun County. Kok recommends wearing sturdy shoes, dressing warmly, and bringing a Thermos of hot chocolate.
Looking for something less time-consuming? Hardware stores and other vendors, such as local schools and Boy Scout troops, also sell trees throughout the Washington area.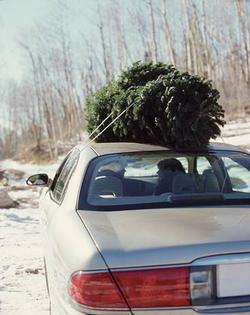 Getting It Home
Once you've found "the" tree that will grace your living room, most tree farms will help you package it for the journey home. Snickers Gap Christmas Tree Farm in Round Hill, Virginia, has a machine that shakes out dead needles and other unexpected gifts—birds' nests, praying-mantis egg sacs—and several baling machines, which wrap the tree in netting. Owner Steven Wolff recommends bringing three or four bungee cords to secure the tree to your car.

Keeping It Green
After you've hauled your tree home, Elaine Lidholm of the Virginia Department of Agriculture & Consumer Services, suggests sawing about ¼ to ½ inch off the trunk. If you don't place it in water immediately, sap will ooze from the base of the trunk, making it impossible for your tree to drink.
Trees can soak up several gallons of water in the first few days, so make sure your tree stand can hold a good amount. Set your tree up in a spot that's draft-free and away from heat sources such as fireplaces and radiators. And keep monitoring the water—a hydrated tree lasts longer than a thirsty one.