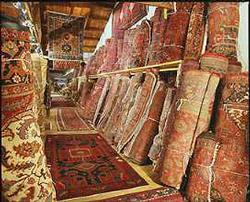 In sleepy Farmville, Virginia, 170 miles from DC, Green Front Furniture (316 N. Main St.; 434-392-5943) is the biggest name around. The discount furniture retailer fills 750,000 square feet in 15 no-frills buildings—old tobacco warehouses and renovated storefronts. Picking through the thousands of pieces of furniture can be a money-saving way to spend an afternoon.
Richard Crallé, who founded the company more than 40 years ago, keeps costs low by doing little advertising and buying directly from manufacturers. Most pieces are traditional; Green Front carries more than 200 manufacturers including Ralph Lauren, Hickory Chair, Maitland-Smith, and Sherrill.
But the Oriental rugs are the stars. Imported from India, Afghanistan, Pakistan, Iran, China, and Nepal, rugs arrive by the truckload every week. A 9-by-12 Persian rug can sell for as little as $500. If you don't have time to make the trip to Farmville, there's a smaller version of the store—85,000 square feet—in Manassas (10154 Harry J. Parish Blvd.; 703-396-8560).
This article appears in the December 2007 issue of The Washingtonian.