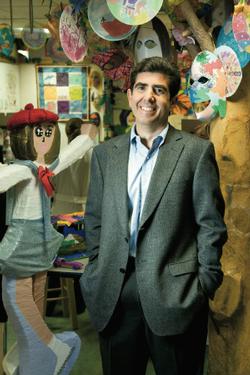 When Matt Gerson began volunteering with the Prevent Cancer Foundation, not even his closest friends knew why.
Gerson never talked about the fact that when he was ten years old he was diagnosed with Rhabdomyosarcoma. His parents were told he wouldn't see his 11th birthday.
What he remembers most is the isolation he felt as one of only two kids being treated in an adult cancer clinic. "I would go sit in a telephone booth to hide," he says.
The minute he saw art therapist Tracy Councill's program in the pediatric oncology/hematology clinic at Georgetown's Lombardi Comprehensive Cancer Center, Gerson had a new mission in life. He saw kids—many with no hair, some with IV drips in their arms—so engrossed in arts projects that their illnesses were briefly forgotten. He immediately volunteered to be the fundraiser in chief for the program he named Tracy's Kids.
Since that first Georgetown visit in 1998, Gerson has raised nearly $2 million for Tracy's Kids, enabling the program to expand to Children's Hospital and two future sites in Northern Virginia.
Gerson worked for the Motion Picture Association of America and is now at Universal Music Group. As a volunteer, he's used industry contacts to create movie-themed fundraisers. The Walt Disney Companies are a major contributor.
Each December, the young artists exhibit their work and create a group project with family members and Lombardi staff.
Five years ago, the project was one of the DC "party animals," an elephant that Tracy's Kids covered with a mosaic of pottery tiles. "We stopped talking about going for treatment and started talking about going to work on the elephant," one mother said.
Childhood cancer will never be a laughing matter for Matt Gerson. But he hopes that Tracy's Kids makes treatment bearable for young patients. "Seventy percent of childhood cancers are curable now," Gerson says. "The disease doesn't have to define the rest of their lives."