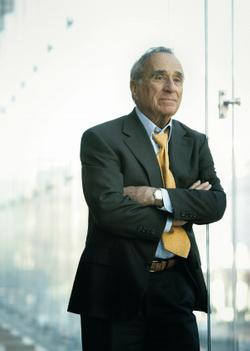 Sidney Harman is a modern Medici.
The head of Harman Industries, an audio-equipment company, he believes that the visual and performing arts are fundamental to the health of a society. "It is the stuff that makes life with all of its triumphs and disappointments clear, revealing, and transforming," he says.
Harman has backed that belief with contributions to the Kennedy Center and the Shakespeare Theatre—cosponsoring its free production at Carter Barron every summer.
When Shakespeare Theatre artistic director Michael Kahn approached Harman with plans for a new theater, Harman had plans of his own. He envisioned a building that would also house up-and-coming performing-arts groups—a place to encourage new creative work and introduce new audiences to the classics.
Sidney Harman Hall opened in October. The dazzling new space and Shakespeare's Lansburgh Theatre now make up the Harman Center for the Arts.
Harman has given $19.5 million to make the new building possible—the last $5 million as a challenge grant that has been matched by other supporters.
Harman, a lover of jazz and classical music, also helped create partnerships between Shakespeare Theatre and other performing groups. The Washington Bach Consort, the Washington Performing Arts Society, and Ford's Theatre have already used the stages at the Lansburgh and the Harman.
For Sidney Harman, the bricks and mortar have surpassed his aspirations. "Its location is sublime," he says. "We'll have multinational, multicultural, and multilingual young audiences. They can get here a dozen different ways."
Harman is proud of the fact that there isn't a bad seat in the house that bears his name. But he'd rather not sit too close to the stage. "I like to sit back far enough to get the full view," he says. "When you're too close, you run the risk of losing the enchantment."