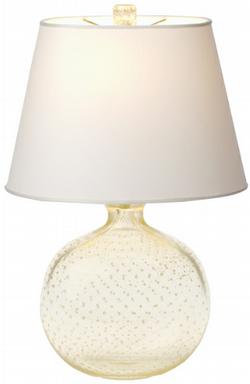 This Knapp & Tubbs gold bedside lamp hails from Murano, the acclaimed glass-making island in Venice, Italy. The Asian-inspired studded glass lamp is infused with gold leaf and goes for $800.
Baker, 3330 M St. NW, 202-342-7080
If you like handblown glass but can't afford the Venetian price tag, check out Crate & Barrel's Jack Table Lamp for $179. An extra-wide faux leather shade and oval-shaped glass base give the lamp a sophisticated look.
Crate & Barrel locations in Arlington (703-890-2300), Spring Valley (202-364-6100), Bethesda (301-365-2600), and McLean (703-891-0090).