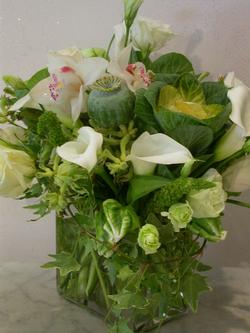 American Plant Food's Ashley Hunter says orchids are particularly beautiful this time of year. The oncydium, "dancing lady," orchid is a mixture of florescent colors and is a long-lasting gift. Blooms last four to six weeks, and can re-bloom for years. Orchids start at $20 and go up to $100 for an arrangement with ferns, ivy, African violets, fiber-optic grass, and more—all stuffed into a ceramic container. Cyclamen, which come in pinks, reds, and whites, open upside-down and can flower for years if the soil is fed properly. They range from $7.99 to $16.99. Hunter also suggests six-inch hydrangeas, African violets, cynara, and kalanchoe as good alternatives to typical Valentine's Day flowers.
American Plant Food, 5258 River Rd., Bethesda, 301-656-3311; 7405 River Rd., Bethesda, 301-469-7690.
Full-service floral hub Art With Flowers offers a contemporary take on the traditional Valentine's standbys. Among them: an arrangement of ivory French tulips for $75. A bunch of Holland tulips for $40 is a less expensive option, and they come in a variety of colors. A gift-giver could also deliver orange tulips in a bubble bowl to an office. Art With Flowers also carries candle varieties and Voge chocolate. Pair a lychee-scented candle with a spring bouquet of cymbidium orchids, hydrangeas, and Casablanca lilies. What to stay away from: carnations and daisies. "It's Valentine's Day," says employee Bill Hervey. "You want to make it look like you put some thought into it."
Art With Flowers, 1750 International Dr., McLean; 703-903-6837.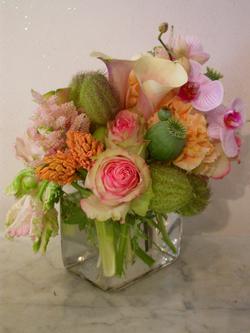 If you're on a tight budget, Blooms owner Gail Dobberfuhl offers this suggestion: "You could ask for mums and carnations [which tend to be cheaper], but a larger flower, though pricier, only needs one to make a statement." She recommends hydrangea, a big blossom from Ecuador. Her vase recommendations? "A trend right now are square vases, though they tend to be more expensive," said Dobberfuhl, who sells vases of all shapes, sizes and prices in her shop.
Blooms, 11515 Sunrise Valley Dr., Reston; 703-620-5557
Laura Quenzel, a florist at Old Town's Enchanted Florist, recommends peonies—hot pink with a touch of white or white with a touch of hot pink—as a red rose alternative. Peonies run $13 a stem. Another good bet, she says: parrot tulips at $18 a bunch. Quenzel says tulip season has begun and you only need one or two bunches for a full-looking bouquet. Enchanted will place tulips, which come in hot pink with white tips, deep red, and light pink, in clear glass "gathering" vases so stems can naturally bend and hang over the edge as they open up.
Enchanted Florist, 139 S. Fairfax St., Alexandria; 703-836-7777.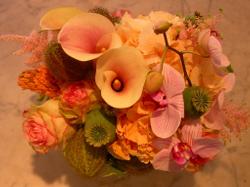 To get away from predictable roses, The Flower Market and Stems owner Gwen Gattsek offers astromeria lilies, tulips, or a mixture of sunflowers and roses. "To get the most bang for your buck, ask the store what flower they prefer to work with. Each shop will be different," she says. Longer lasting flowers are better, she says, so her recommendations are astromeria, snapdragons, sunflowers, and larkspur (a tall florette). Tulips, on the other hand, have a short life span.
The Flower Market and Stems, 5302 Eisenhower Ave., Alexandria; 703-751-0322 (The Flower Market), 703-823-7836 (Stems)
"Daffodills are my favorite. They are very delicate but they are sturdy; they last a few days and to me they are very springy," says JLB Floral owner Juan Balbuena. He also recommends New York anemones, which his shop gets straight from the Big Apple. Similar to poppies, these flowers open quickly and last about five to seven days at room temperature. The vase can completely change the style, Balbuena says. Triangular vases or glass cubes can make the arrangement funkier, while a Grecian urn can look elegant.
JLB Floral, 4932 A Eisenhower Ave. Alexandria; 703-751-4031.
Mark Jenkins of Johnson's Florist & Garden Centers says it's hard to come up with a rose alternative—roses are 90 percent of the shop's sales this time of year. "That's something ingrained in us men," he says. Jenkins's solution: add a couple feet to the traditional rose. Johnson's will carry four-and-a-half to five-foot roses this year. A rose arrangement at this height ranges from $250 for two and a half dozen to $500 for five dozen roses. Johnson's also offers 150 varieties of flowers brought in from South America to Hawaii, including lilies, hydrangeas, and lisianthus. Jenkins says lilies last the longest—up to ten days if they are cared for properly. The Rhodena (hybrid pink) or Rio Blanco (white) lily are $3.99 to $7.99 a stem. Jenkins also recommends tulips and Gerber Daisies ($2.49 a stem). He recommends avoiding soft flowers like lilacs and sweet peas because they don't travel well. A better low-budget choice: one five-foot rose stem for $9.99.
Johnson's Florist & Garden Centers, 4200 Wisconsin Ave., NW; 202-244-6100; also in Kensington, Olney and Gaithersburg.
Ultra Violet Flowers owner Robin Sutliff is thrilled she was able to get West Virginia sweet peas this season. "They don't come around that often; they scream romance," she says. To get out of the humdrum of roses, she suggests trying tulips or ranunculus, a whimiscal flower with lots of petals that come in hot pink, red, and purple. For those on a budget, Sutliff suggests spending money on the flowers, then cutting and vasing them yourself.
Ultra Violet Flowers, 1218 31st St., NW; 202-333-3002; ultravioletflowersdc.com.Want more Valentine's Day advice and information—from where to dine, to where to go, to what gifts to buy? Click here for the Washingtonian Guide to Valentine's Day.