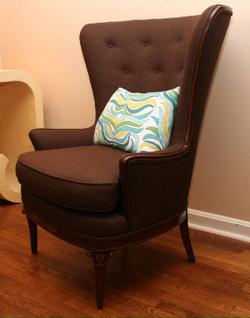 Avery Noll, a Silver Spring-based online retailer that launched in November, sells vintage furniture with a contemporary twist.
Mother-and-daughter owners Dee Gardner and Delores Gardner Thompson sell furniture, lighting, and home accessories—antiques, they say, that blend into a modern home. Their stock comes from all over the country, though mostly from the South, and ranges from traditional antiques to the "new classics" of the 1970s and '80s. Gardner, who lives in Georgia, does most of the antique hunting then ships items to her daughter in Maryland.
Before the pair put many of their antiques on the market, they update them, adding designer fabrics, modern shades and finials, or fresh paint and finishes. To keep overhead and prices low, Avery Noll doesn't have a traditional storefront—customers browse and buy straight from the Web site. Gardner Thompson says customers can swing by her house if they want to see an item.
Avery Noll posts new items every Thursday. Recent finds include a set of four Plia folding chairs, a style that's part of the permanent collection at the Museum of Modern Art, for $300. A large, 1970s smoked-glass globe light listed for $350.
Not everything is easy to part with, Gardner Thompson admits: "We buy what we love."