Who: Alison Cheyne, 20
Public -communication student, American University
What She's Wearing: A J.Crew bell-sleeved jacket with a colorful, striped silk lining ("When I wear this coat I usually don't button it because it swings open as I walk and sometimes the lining peeks out"), a polka-dot, silk blouse from Marshall's ("In the clearance section hidden between some Christmas sweaters and horrid grandma blouses"), high-waisted, black skinny pants from H&M, a black scarf from a street market in Florence while studying abroad in Italy last semester, and black suede pumps by Steven by Steve Madden. The bag is a black and white patent tote by Tory Burch from Bloomingdale's in Chevy Chase.
How would you describe your style? Any style quirks or signatures? "I feel like my style is quirky, Euro-sophisticate. There are days when I wake up and need black pants and ballet flats à la Audrey, some where I channel Italia with heavy leather boots and skinny jeans and multiple scarves, but other days I feel the need to pass on pants and wear one of my grandfathers cashmere sweaters, leggings, Minnetonka moccasins, and load up on bracelets. My signature would be my necklaces and watch. I think a good, solid watch is essential. Mine is a two-tone Fendi tank style. I love the two-tone because I can really have fun with the rest of my jewelry, which is why I always wear two or three necklaces that compliment eachother. Each has a special meaning to me, which is always a conversation starter if I'm in a terribly awkward social situation."
Favorite labels and shops? "My favorite labels would have to be J.Crew and Club Monaco for the basics. Its so cliché, but DVF is right for every occasion. There's always a few of her dresses I'm coveting. H&M is great for business attire if you don't want to spend a lot. Citizens of Humanity and Paige jeans always fit right, and I need to get my hands on the new William Rast styles. I love the new Bloomingdales in Chevy Chase and Urban Chic and Wink in Georgetown. I've known Wink to have a great selection of Calypso, Milly, and James Perse tees. The Mustard Seed in Bethesda is really fun. And you can't forget Loehmans, Marshalls, T.J. Maxx, etc. Clothes are always more exciting when you really feel like you found them."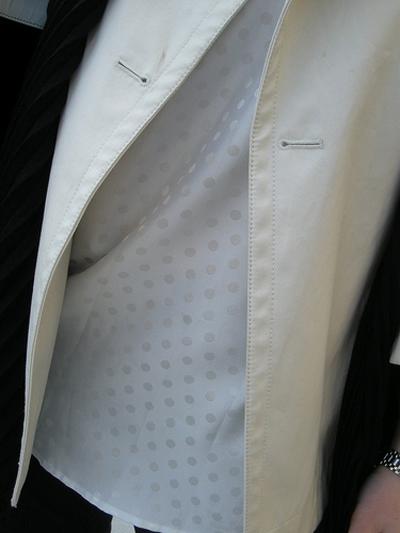 What do you have your eye on for Spring? "I just got the orchid Tory Burch Reva flats and she has a gladiator-style sandal that looks gorgeous. I can't wait to see what happens with all of the pretty florals that have been coming up at the shows. Also, even though I love being girlie, I love the androgynous look and am excited for sleek clothes with structure."
What's your favorite thing in your closet? "My green Marc Jacobs corduroy motorcycle jacket I got for Hanukkah in my junior year of high school – it has been with me through the good days and the bad. And my Louis Vuitton Damier Canvas Speedy. It's less popular than the monogram canvas so I don't feel like I see it everywhere and those bags are so durable that I know I'll have it forever."
Rachel Says: Alison's palette is neutral but far from boring. The pieces are classic, but the shapes are all very modern. The skinny look below balances the volume on top, and I especially like the way she integrated a bit of pattern and texture with the silk top from Marshalls. This is a great spring outfit.