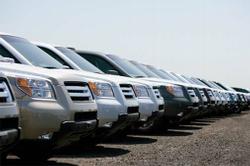 Last summer a garage spot in a condo building on Kalorama Road in Northwest DC sold for $50,000. At Rosslyn's Turnberry Tower, each condo in the new, 26-story building comes with one spot. Want to buy another? It will set you back around $50,000.
At Bethesda's Lionsgate, a luxury-condo building opening later this year, prices aren't much better. Eighty-five percent of the units come with two parking spots. But if you should want to buy another—or sell one of yours—you're looking at about $40,000.
Prices are steep on the rental side, too. A scan through Craigslist's parking and storage page showed that Georgetown, Dupont Circle, U Street, and Adams Morgan are the priciest, with spaces listed for up to $250 a month. If you're a Nats fan, you can rent a spot near the new stadium for the not-so-bargain price of $2,000 for the season.
If this is all a little heavy on your wallet, you might want to check out Zipcar. Even if you rented one for 24 hours every day of the year, it would only set you back $21,500. That's getting not only a car, but also gas, insurance, and yes, reserved parking.