Where? 16th and Q streets, near Dupont Circle
Size? 472 square feet
Type? Studio
Moved in? August 2007
Why Dupont Circle? "After two years of living in a four-story townhouse in Southwest DC with three friends, I wanted a place that was my own. I wanted to experience more of the city and live in a neighborhood that was close to my favorite restaurants, bars, and stores. I also feel safe walking around the neighborhood and I love its beautiful rowhouses."
Overall Look? "Modern and minimalist. I wanted to use the same color palette throughout so the room flowed well, yet I still tried to make each area distinct. I didn't want to feel like my dining room (if you can call it that) was in my bedroom. Because my kitchen is separate from the main living area, I decided I could use different colors to make that part feel distinct.
"To achieve a minimal look and make the apartment feel bigger, I scaled back on furniture and other objects that could clutter the apartment. I read that the worst thing you could do in a studio is have furniture that is overwhelming and too large—or just have too much stuff. I also had to think of new ways to use things I already owned so that I didn't have to buy all new furniture. My rent was doubling, so I had a very limited budget!"
Inspiration? "A two-page spread in a West Elm catalog caught my eye. The furniture was dark brown and there were light blue accents. While this was a look specifically for a living room in a large home with ample space, I decided to try to make it work. I used chocolate brown, light blue, and cream/beige as the colors for my main room.
"Because a friend had gotten me cute black and white kitchen towels and an oven mitt, and another friend gave me black stemless martini glasses with black and white napkins, I decorated my kitchen in black and white."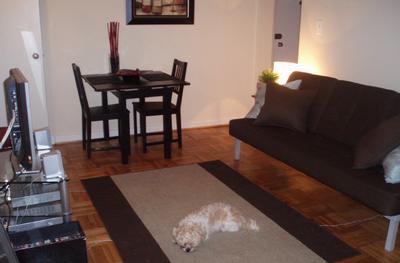 Want to see more photos from Washington events and parties? Click here for Washingtonian.com's photo slideshow page.
Biggest Decorating Challenge? "I had an extremely difficult time finding a couch. I had a very specific look in mind, but everything online or in furniture stores was not the right look. Or it was uncomfortable or way out of my price range. I wanted something that could also be a bed for visitors, but fold-outs were too large to fit through my doorway and futons reminded me of college.
"At Urban Outfitters in Georgetown, I found a dark brown couch that was futon-ish but looked really modern. I particularly liked its steel frame and bare legs. It was also a three-person couch, not a loveseat. It wasn't particularly large and wouldn't dominate the apartment. And each of the three sections can fold back to create almost a full-size bed. It was perfect!"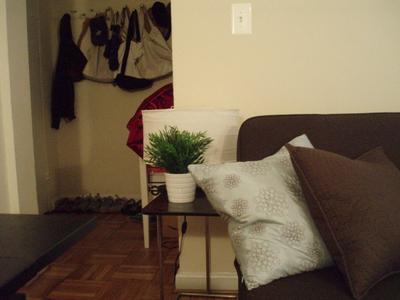 Favorite Part of the Apartment? "I love the alcove by the front door. In many other studios, you walk right into the main room, which can feel like a dorm room.
"I also love my closet. It's deceiving—you wouldn't expect a small studio to have a really large walk-in closet, but it is awesome. It has a great California Closet-like organization, and I have more than a dozen shelves, a built-in dresser, and five racks to hang clothes. I have never had a walk-in closet, and it is an absolute dream. The guys that helped me move thought that I should change the closet into my bedroom by ripping out all of the shelves, but I was like, 'Are you kidding me?! The closet is the best part!!'"
Least Favorite? "I'm not a fan of the kitchen setup. I have to keep my dishes in a cupboard on the opposite side from the oven and sink. The most ample counter space is underneath that cupboard, so next to my oven and kitchen sink I only have a small counter area. Luckily, I don't cook often."
Proudest DIY? "My younger sister took a couple old wooden end tables, refinished them, and added a subtle gold sponge-painted look. It was really creative, and they look fairly expensive. I use them as night tables."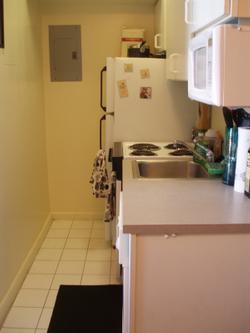 What's Next? "I want to replace my cheap Ikea rug with a round, beige shag rug. I think adding something round to a rectangular room will be a good contrast. Plus, my current brown-and-beige rug isn't exactly plush, and it would be nice to have something more comfortable to walk on. I also would love to paint one wall—or maybe the whole room—pale light blue. Cooler colors give the illusion of more space, and I think it would look really good with my color scheme."
Advice? "Small spaces require furniture that is to scale. An oversize couch or big dinette table can crowd the room. Try to have accent pieces that are also functional—an ottoman that stores blankets. Also, choose a color scheme and use it throughout the space—mixing too many colors makes the space seem busy, awkward, and crowded.
"When you look at furniture in a store, make sure to also check the Web site—pricing can be different. The couch I bought from Urban Outfitters was listed at full price in the store, but it was for sale online. I saved more than $180. If it is a brand that's not exclusive to the store, take note of the specific item name/number and search online. I was amazed that the same item could be hundreds of dollars different depending on the site or store. Make sure to research before you commit to buying something, especially if you're on a budget!"
Open House is looking for more apartments and homes to feature—send pictures of your place to MFleury at Washingtonian dot com.