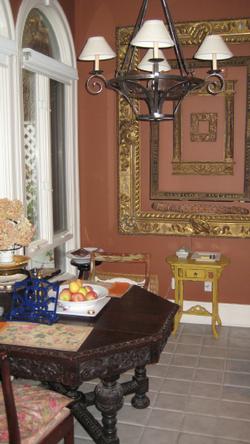 Where? West Dupont Circle
Size? 2,500 square feet
Type? Townhouse
Moved in? 2001
Why Dupont? "This area has the best of city living. Everything we need is within walking distance, including the Metro. We have The Phillips Collection, wonderful architecture, and a variety of shops."
Overall Look? "Gilded eclectic is the only category we can fit into; we have more gilded objects than King Tut."
Inspiration? "Bill is an artist, gilder, frame-maker, and conservator of gilded objects. This is why we have empty antique frames as artwork and other little treasures sitting around. I am a painter who has learned to use gold leaf in my work and since my studio is the top floor of our home, I use the entire house to showcase my work."

Biggest Decorating Challenge? "Incorporating all the weird things Bill brings home. Like the twisted iron railing he pulled from a demolition site, gilded, and proudly brought home one night. It ended up on our living room mantle."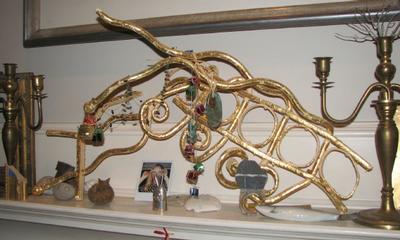 Want to see more photos from Washington events and parties? Click here for Washingtonian.com's photo slideshow page.
Favorite Part of the House? "Our breakfast room. We never tire of looking at the extraordinary "nest" of four empty antique frames hung on a terracotta-colored wall."
Least Favorite? "All those stairs."
Proudest DIY? "Our unique table cloths. I like to buy several yards of beautiful fabric and make my own table cloths."
What's Next? "Making our roof deck more usable."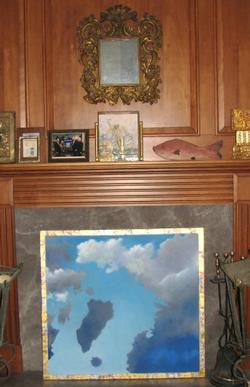 Advice? "Use a painting to cover your fireplace when it's not in use."
Kay Jackson exhibits at Addison/Ripley Fine Art in Georgetown and Bill Adair runs Gold Leaf Studios.
Click here to tour other homes in the area. Open House is looking for more apartments and homes to feature—send pictures of your place to MFleury at Washingtonian dot com.