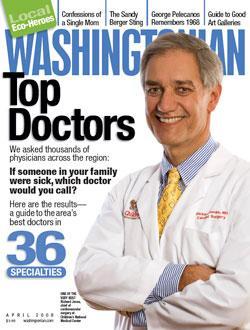 Stinging Sandy Berger
The high-powered lawyer and former White House national-security adviser went to the National Archives to check on the Clinton efforts against terrorism. Then the archives staff noticed something wrong.
Remembering the 1968 Riots
African-American leader Virginia Ali and novelist George Pelecanos remember the 1968 riots—and how they changed Washington.
The Insider: Charles Overby
As head of the new $450-million Newseum, which opens April 11, Charles Overby has one of the best offices in Washington—a sweeping vista encompassing the Capitol, the Mall, and the monuments. A lifelong journalist and longtime Gannett editor, Overby won a Pulitzer Prize while at the Jackson Clarion-Ledger.
Designing an Altar for the Pope
Local architecture college students created the altar that will be used for mass when the Pope comes to town in April.
Stepping Out in Style: Spring Shoes and Handbags
From colorful handbags to shoes with fun details, these accessories can add polish to any outfit.
Luxury Homes: April 2008
Former Bush aide sells for $1.3 million. Wizard Andray Blatche, NPR's Diane Rehm, and Channel 9's Tracey Neale make deals.
Top Dog, Top Cat: Winners of Washingtonian's Cutest Pet Contest
Readers pick Washington's cutest dog and cat.
Finding a New Life in "Active Adults" Retirement Communities
One woman gives lectures on cheetahs. A man is a Senior Olympian. A couple sought fellowship among neighbors. All found what they wanted in local "active adult" retirement communities.
Post Watch: Hey Boss—Get the Damn Paper Delivered Early
As Katharine Weymouth, granddaughter of the legendary Katharine Graham, takes over as publisher of the Washington Post, here are suggestions for her agenda, based on interviews with subscribers and Post staffers.

Go-To Guy Lanny Breuer Seems a Bargain
Covington & Burling's Lanny Breuer is the newest go-to lawyer in a crisis, and he's with a firm that seems to be remaking itself as one of the nation's best after several decades of what might charitably be called "malaise."
For more content from the April issue, click here.