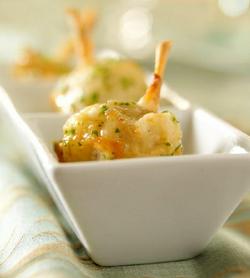 In Caterer's Choice, a local caterer highlights a trendy hors d'oeuvre or mini-dessert to spark ideas for your own reception.
The dish: Frog's-leg tempura with lemon butter, garlic, and parsley, created by chef Tom Berry at the Catering Company of Washington in Northwest DC.
The scoop: The chef deep-fries frogs' legs—a traditional French delicacy—in tempura batter and tosses them in butter flavored with lemon, garlic, and parsley; you grab one from the hors-d'ouevre station and pop it in your mouth in one rich bite.
Get it while it's hot: "The feel of the French bistro is back in a big way," says Drew Lepp, an event coordinator for the Catering Company of Washington. With top chefs here, in New York, and across the country adding so much food straight from the French countryside, brides and grooms are opting for more French-inspired hors d'oeuvres like this one.
"Especially," Lepp adds, "when they have a guest list full of people who have been there, done that, and eaten some of the best food from around the world." Meaning if your friends and family are restaurant-savvy, this will be a hit.
Would you serve this at your wedding? Tell us in the comments section.
Now that we've made you hungry, check out more Caterer's Choice posts here.
To read the latest Bridal Party blog posts, click here.