Travel > Nearby Getaways > Great Weekends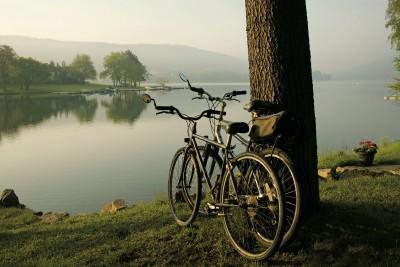 As at the Inn at Perry Cabin—where Aaron Butler and Keri Lowry got engaged—the staff at many inns can help make a weekend truly romantic, whether by arranging a private hot-air balloon ride or creating a candlelight moment on the veranda.
These five getaway spots, all offering whirlpool tubs and fireplaces, are popular with couples—not just to pop the question but also to celebrate an anniversary or simply take a romantic break.
A "Proposal" Room With a View
So many engagements take place at the Brampton Inn that owners Danielle and Michael Hanscom created a proposal room with a 360-degree view of the inn's 25 acres. The inn or groom-to-be provides a romantic CD, innkeepers scatter silk rose petals, and Champagne and chocolates await.
Breakfast at individual tables might include pumpkin chocolate-chip muffins or baked-apple pancake—or you can dine in bed. Two luxurious cottages opened in March, bringing the total to five.
Brampton Inn, Chestertown, Md.; 866-305-1860; bramptoninn.com; $195 to $425.
Sweet Beginnings Near Charlottesville
A prospective groom once kept Hayden Cabell, co-owner of the Inn at Sugar Hollow Farm, busy checking the exact time of sunset while another was consulting her on Champagne to enjoy with his almost-fiancée. At breakfast, both women were surprised that another couple had become engaged the same evening.
On 70 acres near Charlottesville and several Piedmont wineries, Sugar Hollow's grounds include a stream and views of Skyline Drive overlooks. Besides the main house, there are three farmhouse rooms with a porch swing, a suite with private deck, warm hospitality, and great meals.
Inn at Sugar Hollow Farm, Crozet, Va.; 866-566-7388; sugarhollow.com; $140 to $295.
Rowing Into the Sunset on Deep Creek Lake
The Arts and Crafts–style Lake Pointe Inn has plenty of romantic touches, from the massage room and sauna to the outdoor fire pit to the wraparound porch. Guests can propose in a canoe at sunset, in a double hammock or love seat, or in a horse-drawn sleigh. Innkeeper Caroline McNiece has spelled out marry me in flower petals and arranged a ring on a rose stem at breakfast—which is always a treat, with such offerings as berry parfait, lemon ricotta pancakes, and hickory-smoked pepper bacon.
Lake Pointe Inn, McHenry, Md.; 800-523-5253; deepcreekinns.com; $188 to $279.
French Kiss in the Virginia Countryside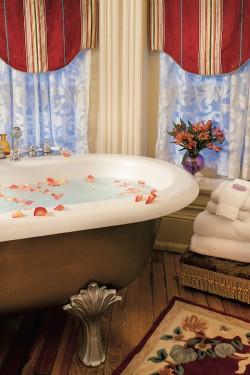 Billing itself as a "touch of France," L'Auberge Provencale inn has won awards for its cuisine and wine list. It also boasts immaculate decor, colorful tile and fabrics, meadow and mountain views, and herb and flower gardens.
If guests can pull themselves away from the peaceful porch and fresh croissants, they can also enjoy the Blue Ridge Parkway, vineyards, orchards, and antique shops.
L'Auberge Provençale, White Post, Va.; 800-638-1702; laubergeprovencale.com; $155 to $325.
Romance in the City
The innkeepers at Swann House, a Dupont Circle gem, once spelled out i love you on a bed with Hershey's Kisses. They've had 300 roses delivered to a room and even sold a man the very clawfoot tub in which he proposed.
When guests aren't enjoying the feather beds and sateen sheets—the most romantic rooms are Il Duomo, Regent, and Blue Sky—they may be on the roof overlooking the twinkle-lighted courtyard and pool.
Swann House, Northwest DC; 202-265-4414; swannhouse.com; $150 to $365.