Travel > Nearby Getaways > Great Weekends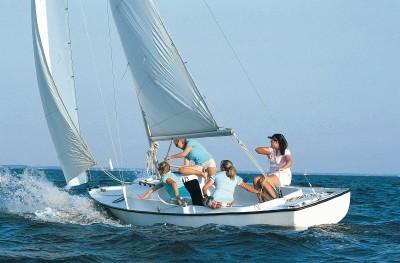 The path to a more adventurous life can begin with a variety of sports. Here are four heart-pounding options.
On the Bay, Riding the Wind
Like paragliding, sailing relies on the power of wind—and can give you a new appreciation of nature. Learn to sail on the Chesapeake Bay and you can explore quiet coves as well as charming islands and towns such as Solomons Island and St. Michaels.
Chesapeake Sailing School (410-295-0555; sailingclasses.com) and Annapolis Sailing School (410-267-7205; annapolissailing.com) both offer courses in Annapolis. The weekend program at CSS costs $365; ASS charges $395.
In Rock Hall, the Maryland School of Sailing & Seamanship (410-639-7030; mdschool.com) teaches how to crew 32- to 45-foot yachts during four-day live-aboard courses; the cost is $950 plus food. Closer to home, Washington Sailing School in Alexandria offers weekend classes for adults that start at $300 (703-548-9027; washingtonsailingmarina.com).
Or go upscale at the elegant Tides Inn, in Irvington, Virginia. A package featuring four nights in a suite with an adjoining boat slip, daily breakfast and lunch, and three days of private instruction leading to US Sailing Basic Keelboat Certification costs $2,495 a couple. Details: 804-438-5000 or tidesinn.com.
Free as a Bird in the Sky
As you fall from 10,000 feet, you can actually see the curvature of the Earth. Then a skydiving instructor deploys the chute, and the world seems to come to a standstill. You gently descend, relaxing and enjoying the view.
After an hour's instruction, experience the thrill of free fall—accelerating to 120 miles an hour—on a tandem skydiving jump with a certified instructor. (You can advance to solo free fall after six to ten more jumps.)
An initial tandem jump costs about $200 to $250. Among good places to try it:
Skydive Virginia, Louisa; 540-967-3997; skydivevirginia.com.
Skydive Delmarva, Laurel, Del.; 888-875-3540, skydivedelmarva.com.
Chambersburg Skydiving Center, Pa.; 800-526-3497; skydivingcenter.net.
Sheer Fun on the Rocks
If you think the views you get hiking up a mountain are thrilling, try taking in the view while hanging off the side of a mountain.
Learn to rock climb at the 300-foot-high cliffs of Seneca Rocks, West Virginia, the Mid-Atlantic's premier rock-climbing destination.
Seneca Rocks Climbing School (304-567-2600; seneca-rocks.com) and Seneca Rocks Mountain Guides (304-567-2115; senecarocks.com) both offer weekend climbing courses for $295.
Whole New World Under the Sea
Learn to scuba dive, and the world's oceans—with their exotic fish and colorful corals—become your playground.
Scuba certification can be achieved in as little as two weekends. The first weekend involves classroom and pool instruction; the second includes open-water dives at a lake or quarry.
Atlantic Edge Scuba (301-519-9283; atlanticedge.com) offers classes in several locations, including Gaithersburg, Landover, and Frederick. Open-water dives are held at Lake Millbrook, a scuba park in Haymarket, Virginia, 45 minutes from Washington. The lake has several sunken boats, cars, and an airplane. Course fee: $445.
American Water Sports (703-534-3636; awsva.com), the oldest dive shop in Virginia, teaches classes at area YMCAs, pools, dive shops, and gyms. Open-water dives are at Haymarket Lake (45 minutes from Washington) and Lake Rawlings (three hours), one of the country's top dive sites as rated by Scuba Diving magazine. Course fee: $410.