Travel > Nearby Getaways > Great Weekends
Most resorts have fitness centers that offer yoga or mind-body classes. Want something more intense? These retreats may jump-start a yoga or meditation practice.
Yogaville, Buckingham, Va.; 800-858-9642; yogaville.org. This ashram offers year-round retreats that run Friday to Sunday. Packages including daily yoga, meditation, vegetarian meals, and wellness seminars start at $150 a person for shared dorm accommodations; a private room with a bath is $250 a person single occupancy, $400 a couple.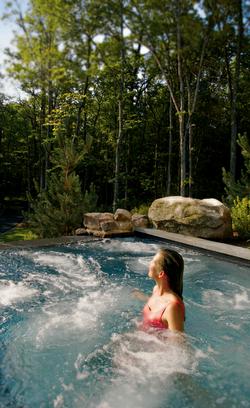 Specialty retreats include Yoga for Athletes, June 13 to 15. That's $165 a person plus accommodations.
Visitors also get a tour of the LOTUS Temple, or Light of Truth Universal Shrine. The building, which resembles a floating lotus blossom, houses artifacts from religions and belief systems around the world.
Inn at Perry Cabin, St. Michaels, Md.; 800-722-2949; perrycabin.com. This luxe inn's three-night Yin Yang Retreat, May 1 to 4, includes yoga each day, meditation seminars, accommodations, breakfast and lunch daily, and an 80-minute spa treatment that combines a body scrub and massage. Rates start at $1,400 for one person, $515 for an extra participant sharing the room. The waterfront inn offers yoga classes year-round so guests may design their own weekend.
Rocky Gap Lodge, Flintstone, Md.; 301-784-8400, rockygapresort.com. From May 2 to 4, the lodge hosts a two-night Women's Adventure into Wellness, put on by Western Maryland Adventures (301-784-8403, wmdadventures.com). The weekend features daily yoga, meditation, wellness seminars, canoeing, hiking, and rappelling. The fee, which starts at $428 a person, includes breakfasts and Sunday lunch. Rocky Gap offers year-round yoga classes.
Lodge at Woodloch, Hawley, Pa.; 866-953-8500; thelodgeatwoodloch.com. Awakening the Wisdom Within is a midweek program with walking meditation, fitness training, and art sessions such as drawing, painting, and photography. Sessions are May 4 to 7, July 13 to 16, and dates in September. Rates begin at $2,025 a person, single occupancy, and include room, meals, and up to four spa treatments.