Marymount University's Arlington campus was brimming with perfect spring style last week for the annual graduating-senior luncheon and fashion show, Portfolio in Motion. New York designer Cynthia Rowley flew down for the day to be honored as the school's 2008 Designer of the Year, an award that's gone to such industry icons as Carolina Herrera and Oscar de la Renta. (Catch our exclusive interview with Rowley.)
Project Runway winner Christian Siriano popped up at the show as a surprise guest (and, if we may say, looked totally tiny and seriously fierce in skinny dark jeans and his signature shag). We even made event presenter and Channel 4 sports reporter Lindsay Czarniak lean over and show us the label of her tan-and-brown Pucci-esque printed sheath to get the designer's name. (Unfortunately, a pesky dry-cleaning tag kept us from reading it, though she did disclose that it was from Bloomingdale's.)
The runway show itself offered plenty of gorgeous eye candy and left us wondering if any of the student designers might take a custom order before our next cocktail event. (See our full recap of the top runway looks on Friday.) In the meantime, we spotted lots of fabulous warm-weather styles while milling about the opening reception and couldn't help but snap pictures of a few of our favorites. See the photos below.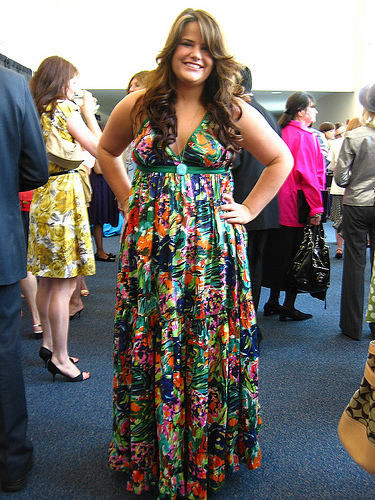 1. We instantly loved Marymount student Whitney Cole's Farrah-esque flip, while her flowy, floral maxi-dress earned unanimous raves from our group of very picky fashion experts. We were even more shocked when we sought her out to find the dress's origin: VictoriasSecret.com! Further proof that great fashion doesn't have to be overly pricey.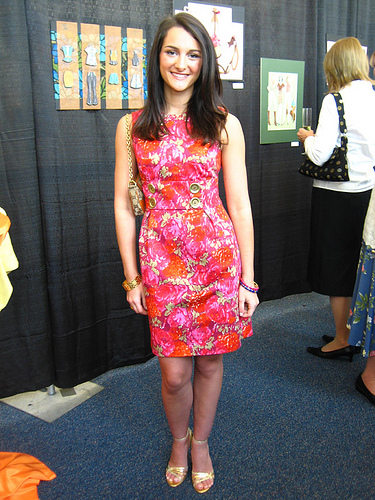 2. Marymount senior Stella Photiou caught our eye with this retro Michael Kors dress in a gorgeously bright floral print. We especially loved the button detailing on the front. Jackie O would definitely approve.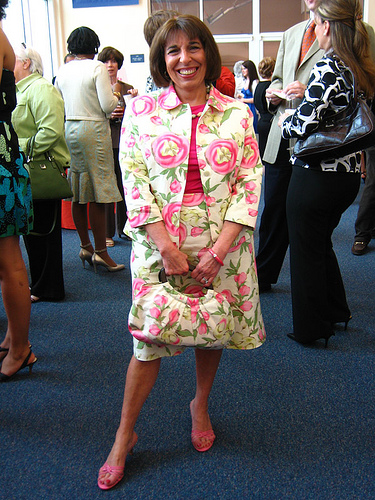 3. There was something so perfectly classic about Janet Amorosi-Deagan's ultra-coordinated floral ensemble from Ann Taylor—we thought it was the ultimate old-school-Washington luncheon ensemble.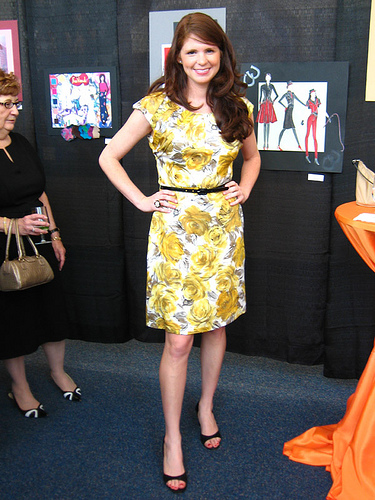 4. How amazingly pretty is this yellow floral ABS by Allen Schwartz belted sheath, worn by Marymount alum Beth Nyborg? And her hair! Total perfection. (Which reminds us: Beth, will you send us the name of your stylist for our upcoming hair special? You can reach us at hair@washingtonian.com.)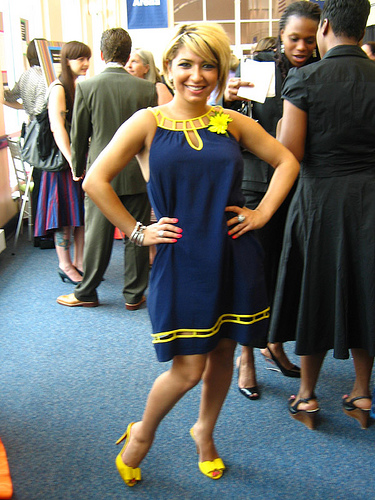 5. We admit that the first thing that caught our eye about Marymount senior Yasmine Afshar's outfit was her unbelievable Christian Louboutin shoes (see close-up). But the entire navy-and-yellow palette—with pops of hot pink from her OPI nail polish—was fantastic overall.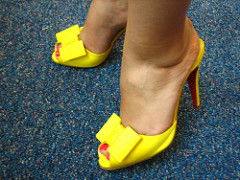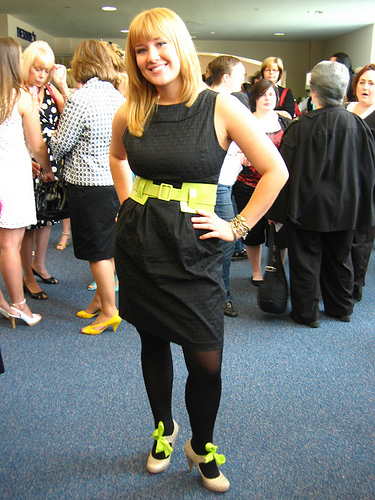 6. Graduating senior Lynn Matthysse's designs were a highlight of the senior fashion show, and she looked every inch the designer in her Forever 21 dress and wide green Bebe belt. We especially loved how she customized her Forever 21 Mary Janes with lime-green ribbon bows (see close-up).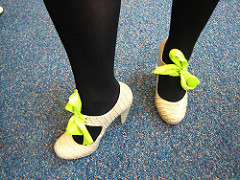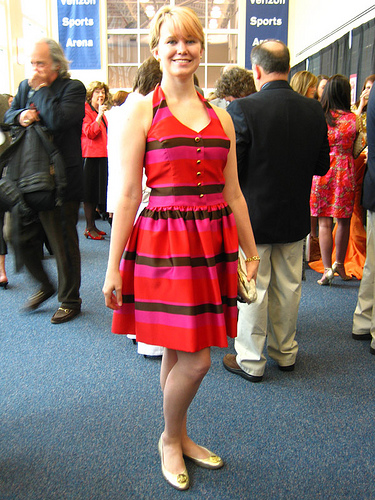 7. Fellow senior designer Christina Proulx paid tribute the guest of honor in a great striped Cynthia Rowley dress. Rowley noticed it immediately while critiquing the class's portfolios and called out to Proulx, "Is that mine?"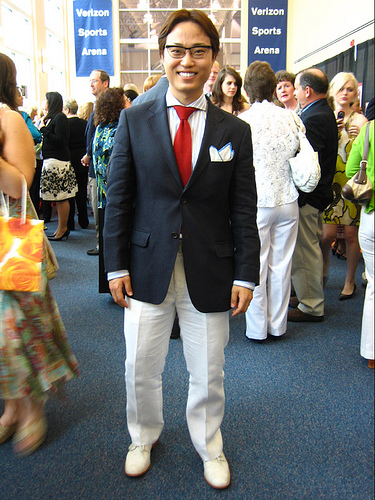 8. It was definitely a mostly female crowd, but Marymount junior Soo Park stood out for his dapper Southern-gentleman ensemble, including a vintage Gucci knit tie and classic Brooks Brothers oxford shoes. His inspiration? Jude Law in The Talented Mr. Ripley. We especially loved his extreme cutaway collar from the classic menswear label Hickey Freeman (see close-up).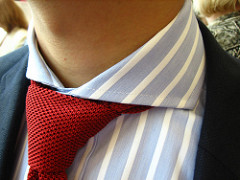 9. Marymount alum Jill McNamara—who now runs her own fashion company, MostlyMonograms.com—wore the outfit she designed as a member of the class of 1972. We marveled at how, more than 35 years later, it still fits like a glove.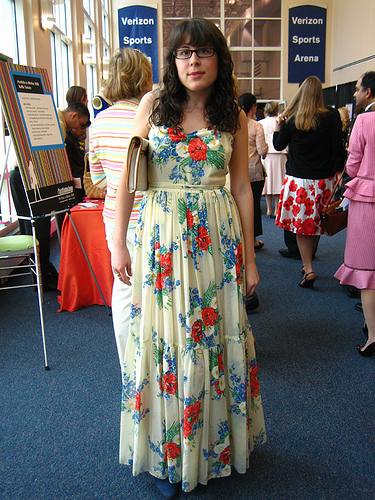 10. Junior journalism major Briana Castro covered the event clad in a sweet vintage maxi-dress and carrying a vintage Fendi clutch, both from Unique Thrift in Rockville. The clutch was scored during the store's half-off Monday special, making it a cool $2.50. We were impressed!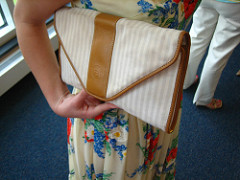 What'd you think of these spring fashions? Let us know in the comments. And read our interview with Cynthia Rowley. Also, check out some runway pictures of the show.
More>> Shop Around Blog | Style | Find a Spa