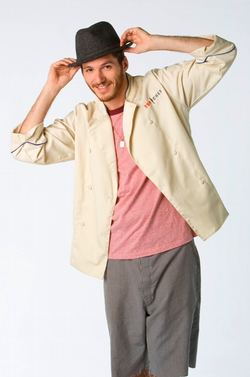 •In Washington-related Top Chef news . . . the kitchen reality show's guest judge this week was none other than José Andrés, owner of Jaleo, Zaytinya, Oyamel, Café Atlántico, and Minibar. Padma Lakshmi's introduction of the famed Spanish chef, though, made no mention of his DC mini-empire—just his new PBS series, Made in Spain.
Contestant Spike Mendelsohn—who's in the process of opening Good Stuff Eatery, a burger spot on Capitol Hill—managed to survive this week's episode and move on to the final five, but Eater reports that he's left his chef post at New York's Mai House. Lest you think the fedora-sporting contestant may have actually won the show, it turns out he was fired. According to Eater's source, Mai House owner Drew Nieporent told Spike: "Please pack your knives and go to DC to grill hamburgers."
•Assaggi brings a new Italian restaurant to the former Centro space in Bethesda but opens without its much-anticipated mozzarella bar. The Washington Post's Tom Sietsema reassures cheese lovers that the six-foot-long bar, custom-designed for refrigerating and tasting cheeses, should arrive any day now.
•Esquire's list of the Best Bars in America offers two Washington entries: The Hawk 'n' Dove ("Low-level congressional staffers head to this political-memorabilia-filled old Irish bar for the free happy-hour buffet because they're underpaid, not because the food's that good") and Tune Inn ("The mounted deer heads on the wall make this dive interesting. The deer asses make it great."). The two Hill haunts rate number 46 and 61, respectively, on this seemingly random list that mixes dives with more highbrow watering holes. Virginia and Maryland were represented with a bar in Roanoke and two in Baltimore.
•Condé Nast Portfolio has a fun online map of DC's power-dining spots—but they mistakenly state that Capitol Hill wine bar Sonoma is owned by Wolfgang Puck. Oops!
•In dessert news . . . Brooks Headley, former pastry chef at Komi, has landed at New York's venerable Del Posto, co-owned by Iron Chef Mario Batali.
Roger Potter, who used to fashion the tasty and surprisingly good-for-you sweets at Rock Creek at Mazza, is now at the Source (which really is owned by Wolfgang Puck). We're excited to see what Potter can do with butter and sugar but sad to hear that the sinfully delicious chocolate purse is off the Source's dessert menu.
Yasmine Sandhu has filled his shoes at Rock Creek. She comes to Mazza from Alexandria's Buzz bakery, where she was assistant pastry chef.
More>> Best Bites Blog | Food & Dining | Restaurant Finder