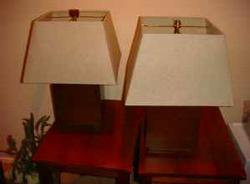 Check out this pair of cube-shaped table lamps for $44 in Northwest DC. Try them on circular tables to highlight the contrasting geometry. They come with the cream shades shown in the photograph, but you could always replace them with something funkier.
More good finds:
• A wine hutch with storage for 24 bottles, stemware, and accessories for $200
• A glass-top black coffee table with three drawers and a storage shelf for $199
• An oak dining room set with table and chairs, hutch, and buffet for $400
• A cherry-finish entertainment center with space for 36-inch TV for $250
Thanks, Craig!
More>> Open House Blog | Homes | Real Estate