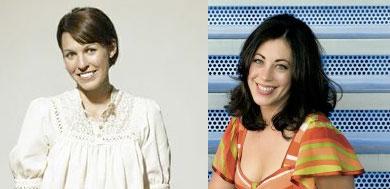 Welcome back to Betsy and Rachel! Their last fashion chat was such a success that we've invited our two favoriite Washington fashion bloggers (and Washingtonian.com contributors) Rachel Cothran and Betsy Lowther in for a chat on all things fashion and shopping on Friday, June 13 at 1 PM. You might know Rachel from her popular fashion photography blog, Project Beltway, where she snaps pictures of fashionable people on the streets of Washington. Betsy comes to Washington via a stint in Asia, where she filled in readers on the best shops and fashion from Toyko to Singapore. When she's not showing up at style events around town in one of her signature vintage dresses, she's penning sartorial advice for her blog, FashionIsSpinach.com.
Ask them about everything from their favorite local tailors to what's trendy for summer to their style inspirations. Submit a question in advance, and check back in on Friday at 1 PM for the live chat.
>>Submit chat questions in advance here.