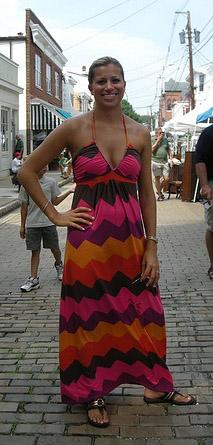 We were walking around on a day trip to Annapolis (having dug up a Washingtonian guide to the quaint town) when we spotted Jessica Jordan on Maryland Avenue, wearing one of this summer's most wearable trends: the maxi dress. Turns out she's in retail; we dropped by her store to ogle the selection of well-priced dresses and bags—and one very cool fuchsia fainting couch with Lucite legs.
Jessica Jordan, 28
Manager, Paradigm
Where is your dress from? "It's from Paradigm! The label is Oxford Circus, and it's not too expensive—I'm pretty sure it was $89. We do a lot of searching around to find gorgeous things that are affordable. We carry some well-known lines like BCBG, Velvet, Sweetees, and Halé Bob, but we also do well with lines that are less known, like Tea and Nougat London. We carry some clothes for the guys, too, like Ben Sherman and Fillmore."
What do you like about the maxi style? "It feels dressy, but it's really not. They are so easy to wear!"
What are people wearing in Annapolis? "It's pretty casual here—my friends and I call it Annapolis casual. For men, that means chinos and a polo shirt, usually in a bright color. Women wear a lot of sundresses, and they wear them day to evening. At the store, we're carrying a lot of brights. I love purple and turquoise."
Where are other good places to shop? "Something like 20 stores have opened relatively recently here, and there are some cool stores over on West Street, which I guess you could say is up-and-coming. Horse is a new boutique, and I also like Saucy shoes. They carry high-end lines like Hollywould. And there's A La Mode, where you can find a bra to wear with anything. I'm wearing one with this dress! Annapolis has become a great place to shop."
Rachel says: Jessica says it all here—maxi styles are so easy to wear, and they make you feel sleek and instantly "dressed." They're especially great if you don't love your legs. They bring the focus up to pretty shoulders, which is a very attractive part of the body to highlight. This soft white version from James Perse is timeless and would look incredible with some turquoise beads.
Weigh in on Jessica's style!
Related:
All Sidewalk Styles
Guide to Annapolis
Shopping in Annapolis
More>> Shop Around Blog | Style | Find a Spa