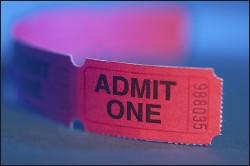 The 9:30 Club never ceases to amaze us, with two surprise shows that just went on sale this morning. On Tuesday, August 5, Gnarls Barkley comes through town with Hercules and Love Affair. Two weeks later, Good Charlotte performs at 9:30 with the Maine and Beretta Jane. Tickets for each of these shows are $25 and can be purchased here. These shows might sell out quickly—get your tickets while you can!
The good news from the folks at 9:30 doesn't stop there—for the indie-music lover in you, tickets to see the Cold War Kids on Saturday, October 18, go on sale Friday, June 27, at 10 AM, and tickets for the Kooks on Monday, September 8, go on sale Saturday, June 28, at 10 AM. Both can be purchased here.
It's also a good weekend for country-music fans to get tickets for some of the area's biggest upcoming shows, including the Sunday in the Country tour, with Sugarland headlining, as well as performances from Rodney Atkins, Billy Currington, Jason Michael Carroll, and Laura Bryna. Take a break from the city at this Merriweather Post Pavilion show on Sunday, September 21. Tickets go on sale June 28 at 10 AM ($40-$75).
In addition, country crooner Toby Keith, whose hit song "Beer for My Horses" is now a feature film (premiering next month), brings his live show to Nissan Pavilion on Saturday, August 9. Tickets ($34 to $64) go on sale Saturday, June 28, at 10 AM here.
In the hip-hop circuit, Jim Jones is having his own birthday celebration with an all-ages show at Sonar on Friday, July 11. He's bringing along friends and fellow rap artists T.I. and Juelz Santana. The tickets are pretty expensive—$25 to $100. They go on sale Friday, June 27, at 10 AM and can be purchased here.
The Silver Jews released their first album in three years, Lookout Mountain, Lookout Sea, earlier this month. You can catch them live at the Black Cat on Wednesday, September 10, for $13. Tickets go on sale Friday, June 27, at 5 PM.
For some, it's way too early to be thinking about Halloween, but this year it falls on a Friday night and DJ Rekha of New York City's Basement Bhangra Indian dance party will be bringing her beats to the Black Cat. She has worked with Panjabi MC and Wyclef Jean, so bhangra and hip-hop fans alike should check out this show; tickets ($13) go on sale Friday, June 27, at 5 PM.