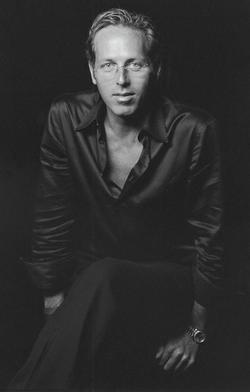 When Giorgio Armani's go-to beauty guru, Tim Quinn, came to town recently, we immediately high-tailed it up to the Armani cosmetics counter at the Chevy Chase Saks Fifth Avenue to beg for his beauty secrets. After all, we've been unintentionally sporting the "shiny glow" for several sticky weeks now, and if anyone can save our beauty routine, we knew it would be Quinn, who's worked his makeup magic on everyone from the perennially gorgeous and glowing Armani runway models to we-hope-we-look-this-good-when-we're-50 actress Kim Cattrall.
Help us! Please! No matter how much powder we apply, we're eternally shiny in this stifling heat.
In the summer, people tend to pile on powder to reduce shininess, but it isn't necessary—in fact, it can often appear cakey and make your skin look even worse. I always suggest a clear primer to start your beauty routine instead. People tend to shy away from it in the summer, thinking it will be heavy on the skin, but it's actually very light and it will keep your skin from absorbing your makeup and help it last longer.
What else are we probably doing wrong?
It's worth repeating that an SPF is probably the most important thing you can wear every day. After several decades of women hanging out at the beach, you can really see the damage that sun will do to the skin. And don't just slather SPF on your face and ignore the rest—you need to protect your whole body, especially delicate, visible areas like the chest. One of the most amazing complexions I've ever seen is Chinese actress Ziyi Zhang. Being Asian, she's avoided the sun her whole life. Her skin is just incredible.
Okay, we hereby promise to be better about sun protection. The truth is, we're really pretty low-maintenance about all this beauty stuff.
Most women I meet want to find a ten-minute beauty routine and then get out the door. Really, I don't think it needs to be more than that.
So what would you consider the absolute essential makeup process?
Here's my simplest step-by-step routine. One, start with foundation—even a light one can really brighten up and even out your skin tone. Two, use a light-reflecting concealer under the eye. It adds a subtle sheen to your eye area that makes a big difference. Three, do a clean sweep of color on the eyelid. Four, add eyeliner into the lash line. Five, apply a gel-based mascara. And six, finish with a sweep of light blush, just to add a little color to your cheeks. If you want to, a little bronzer is a great addition, too. You can do all that in under ten minutes, but it will make such a huge difference in how you look.
That's it? That's all I need?
Our beauty philosophy matches the Armani aesthetic: elegant, simple, natural. We don't have a lot of rules or tools. You won't find us promoting a "look of the season."
What if I give you another two minutes of time?
Okay, then you should also curl your lashes before you apply mascara. I always tell women to not be afraid of the lash curler. The trick is to start the curler at the base of your lashes and pull it along your lashes with little squeezes. The effect is enormous.
Now, this I can do.
Then that's all you need. You will never leave our counter feeling garish or overdone. When it comes to a beauty philosophy, I always remember something Mr. Armani has said: "Elegance is about being remembered, not noticed."
More>> Shop Around Blog | Style | Find a Spa