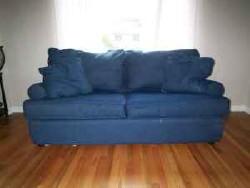 This overstuffed denim sofa, available for $250 in Falls Church, looks like a comfortable spot for an afternoon nap. It has a pull-out bed—which the seller says is heavy, but fairly comfortable—and comes with the matching throw pillows. The seller's cat left a few scratches near the bottom, but the piece otherwise looks to be in good shape.
Other good finds:
• Kitchen table with wrought-iron chairs for $99
• Cherry armoire with seven drawers for $575
• Beveled gold mirror for $225
• Wine rack with storage for six bottles and stemware for $45

Thanks, Craig!
More>> Open House Blog | Homes | Real Estate