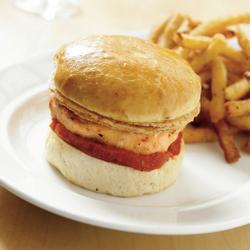 •And now for your weekly burger news. (Is anyone else getting just a little tired of this?) Michel Richard, following in the footsteps of many fellow celebrity chefs—Thomas Keller, Daniel Boulud, Bobby Flay—is planning to jump into the fast-food game with a burger joint. For Richard, it seems like a natural fit. His Central revels in haute road-trip fare, with dishes like Le Kit Kat, four kinds of burgers, and KFC-inspired fried chicken (on that note, we'd love to see a Richard-run chicken shack). Whether he'll be wrapping $33 lobster-burgers to-go, though, remains to be seen.
•The Tony Bourdain spottings have begun! In town to shoot his hit Travel Channel series No Reservations, the skinny-hipped chef has been seen at the Penn Quarter farmers market and Cafe Atlantico with Jose Andres, and is expected to head to—shocker!—Ben's Chili Bowl. Have you seen him skulking through town? Let us know in the comments.
•Starbucks is closing one store in the District—the new one at 21st and L streets, Northwest, which is about a block away from the ones at 22nd and M and 22nd and K.
•Looks like Spike Mendelsohn has quite the eloquent admirer out there. Eater.com caught a Craigslist missed connections posting (it has since been taken down) that reads: "i drove almost an hour to hit up your new restaurant, passed you on the way in, only to be told that it closed 5 mins before (who's open until 11p but turns off all the grills at 10:45?) in any event spike, ur hotter in person. can i see for myself if the carpet matches the drapes?" We're more curious about what's under the fedora, but whatever.
•Don Rockwell notes that Gerard Pangaud Bistro is closed "hopefully temporarily." The restaurant has been taken off-line on OpenTable, and its phone has been temporarily disconnected. And Merkado, the Latin/Asian restaurant owned by the Logan Tavern crew, will shutter in late August. The plan is to reconceive it as Commissary, a coffeehouse/wine bar/cafe with breakfast and free WiFi.
Related:
More>> Best Bites Blog | Food & Dining | Restaurant Finder