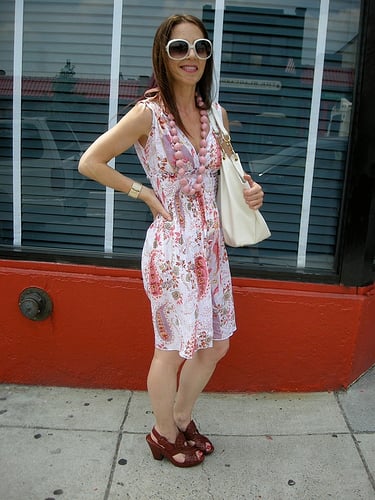 Agnes Mannarelli, 46

Works for Warren Communications News
What she's wearing: A printed cotton dress from Moo Joo Ken, a necklace from All About Jane, Frye shoes from the recently closed (so sad!) Wild Women Wear Red, and a Hobo International bag from Nana. The cool mother-of-pearl bracelet watch is Fossil.
Where do you like to shop? "I only shop in DC. I keep a running tab at Secondi because I consign so much there. When I want something new, I can just go in and get something without feeling like I'm spending money."
What's something you would never wear? "A Polo shirt. I'm not preppy at all."

What do you think about style in Washington? "When I first moved here 20 years ago, it was terrible. You went to Ann Taylor because you really didn't have any other choice. Now there are all of these boutiques and other stores. And the young women give me encouragement!"
Rachel says: Frye makes really good-looking shoes that are somehow both elegant and bohemian. And they're always so comfortable. I liked that she paired a filmy, delicate dress with chunkier accessories to make it look casual. Agnes is petite, so the smocking at the waist gives her great curves.
Weigh in on Agnes's style!
What do you think of Agnes' outfit? We want to know! Leave your thoughts and opinions in the comments below.
Related:
Sidewalk Style: We've Gone Video!
Sidewalk Style: Taste of Terry Cloth
See All Sidewalk Styles
More>> Shop Around Blog | Style | Find a Spa