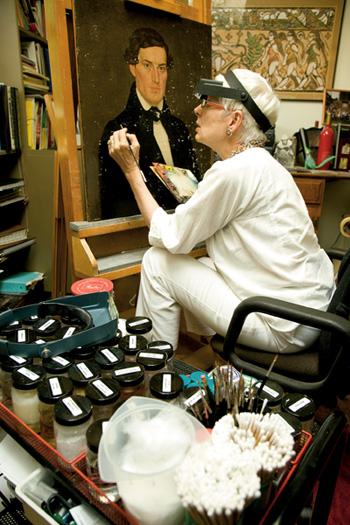 Homes > Home Design > Home Repair
Alexandra Tice is an oil-painting conservator, but at times she feels like an archaeologist.
In 1989, she scraped through a thick mask of mud, twigs, and leaves to uncover a 19th-century A.F. Tait painting of a hound dog. A South Carolina couple owned the artwork; Hurricane Hugo had torn their house off its foundation and scattered their possessions for miles.
Tice used removable resins—any conservation methods must be reversible—and layers of soluble varnishes to bring the painting back to its previous glory.
Four years earlier, she had salvaged a Flemish painting by Wouter Vershuur—showing a horse inside a stable—that had gotten covered with a layer of cat hair. Tice guesses that the cat brushed up against the painting when humid weather caused the dark-brown varnish to become sticky.
While studying at Mount Holyoke College and Northwestern University, Tice, now 66, was told she would need a PhD to make something of her art-history major. Instead, she took an entry-level job at the Corcoran Gallery of Art in 1965. When she learned that a torn picture in her office could be repaired by the gallery's conservator, she was intrigued.
After three years as an apprentice to a Smithsonian conservator, Tice set out on her own at age 33. Since then, she has worked on most of the paintings at George Washington's Mount Vernon, conserved most of the US Capitol's collection of paintings of Civil War forts, and repaired portraits at the US Treasury after a 1996 fire.
It is the mix of science, art, and craftsmanship, she says, that has kept her in the business for 32 years.
"You can go all the way through art history and never hear about conservation," Tice says. "I met a couple of conservators and thought, 'Wow, someone would pay me to do this.' "
Have something to say about this article? Send your thoughts to editorial@washingtonian.com, and your comment could appear in our next issue.
This article appears in the August 2008 issue of Washingtonian. To see more articles in this issue, click here.