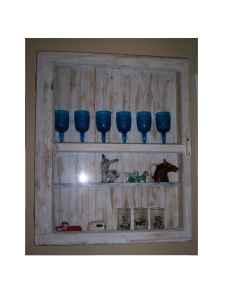 Take a drive out to Haymarket, Virginia for this unique shelf, available for $100. It's made from an old farmhouse window and has a white distressed finish. The shallow shelves look just deep enough to store stemware—the seller fit a set of six on the top shelf—and it appears to have a glass door, making it a good spot for fragile collectibles. The owner is having a yard sale this Saturday at noon to sell the shelf and other items, including an oak washstand and headboard and Windsor side chairs.

Other good finds:
• A pair of espresso-brown night stands for $75.
• An art deco-style wardrobe for $500.
• A side table with chess-board top for $600.
• A chocolate microsuede sofa for $425. Delivered for an extra $50.
Thanks, Craig!
More>> Open House Blog | Homes | Real Estate