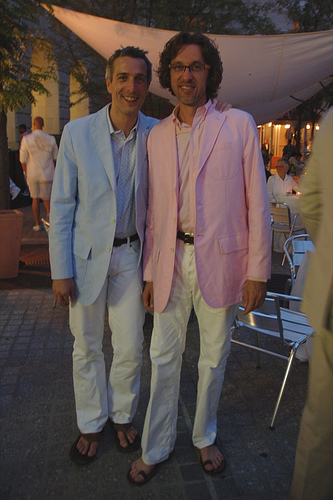 This week we snapped a couple at the Washington Area Concierge Association's White Garden Gala, held Sunday evening on the terrace of the Ronald Reagan Building's Aria Trattoria. The gala is the group's annual fundraising event; this year's beneficiaries were the John B. Campbell Hospitality Scholarship, Les Clefs d'Or Foundation, and Metro TeenAIDS. Attendees wore all white or petal-perfect shades to complement the "white garden" theme.
On the left, in blue: Jean-Francois Dupont, 41, is the conference services manager at the St. Regis Hotel in Washington.
On the right, in pink: Joseph P. Yalch, Jr., 44, is a dentist.
What are you wearing?

Joseph: A Ralph Lauren jacket from Bermuda ("we just came back from vacation"), a Ralph Lauren shirt, Guess jeans, Mixx leather sandals, and glasses frames from a store on Lincoln Road in South Beach.

Jean-Francois: Ralph Lauren jacket, Perry Ellis shirt, Diesel jeans, and Aldo sandals.
How would you describe your style?
Joseph: "Nonconformist. I like to be a little different. The more color and more pattern, the better."
Jean-Francois: "I'm color-blind. He dresses me!"
Where do you shop?
Joseph: "My favorite was Britches until they went out of business. I did a lot of my shopping there. I go to Bloomingdale's a lot now The customer service is great, and the sales staff is starting to get to know us. Sefi is our tailor, and Christine is our salesgirl. We both just bought some suits there. "
Jean-Francois: "You can also find great things at places like Filene's. You just have to be willing to look."
Joseph: "We do a lot of travel abroad, and we do most of our shopping then. Paris especially."
Jean-Francois: "Everything's ahead in terms of style. They are willing to dare. We love Simon's in Montreal, where I'm from. Neat clothes at very reasonable prices."
Favorite thing in your closet?

Joseph: "I love to wear linen in the summer. I have a plaid linen shirt from Ralph Lauren that I've had since college. It's pastel. I get compliments on it every time I wear it."
Jean-Francois: "A gray wool turtleneck sweater. I always reach for it."
Joseph: "We got it at Simon's!"
Any advice for men in DC?

Jean-Francois: "Enough of the banker look!"
Explain that.

Jean-Francois: "Blue pinstripe suit, white shirt, red paisley tie. I'm a little bored with all of the white shirts in general. "
Joseph: "Men should be more willing to mix patterns. They don't have to be wild. Here, everyone is most concerned with blending in. I'm the opposite."
Rachel says: I think Joseph's sandals are really cool—an elegant solution to the what-to-wear-in-the-summer problem for men's shoes. Several steps up from flip-flops and in gorgeous hand-hewn leather. I really like the way Joseph and Jean-Francois interpreted the event's theme with summery, Italian-fit white jeans and color on top. Euro-preppy? Nice.
Weigh in on this duo's summer duds:
Earlier:
Sidewalk Style: Church Glam
Sidewalk Style: All About the Accessories
All Sidewalk Styles
More>> Shop Around Blog | Style | Find a Spa