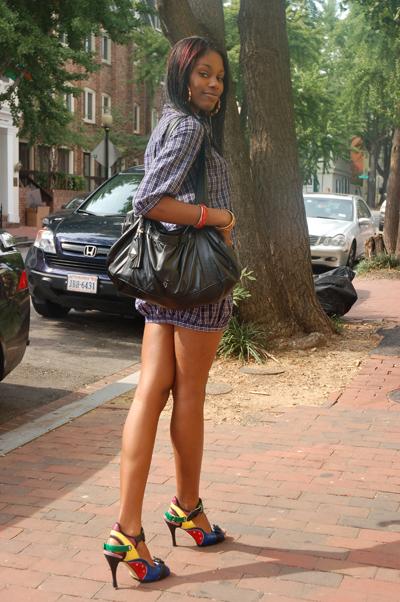 Elaine Jackson, 19
Senior, Ballou High School
What she's wearing: Plaid shirt-dress from Urban Outfitters, H&M bag, Steve Madden heels, and Forever 21 enamel bangles: "Beyoncé wore these shoes—well, probably expensive versions of them."
Describe your style. "It all depends on how I feel when I wake up. I like to look like I have a punk-rock band. I like dressing up."
Any particular rock-style icons? "The lead singer of In This Moment. They're a heavy metal band."
What are people at your school wearing? "It's really retro '80s . . . a lot of mismatching colors and patterns. It's almost too much."
Dream job? "I want to be a makeup artist. Hopefully, behind the scenes at concerts and shows in LA or New York."

Rachel says: Everyone's been talking about the return of grunge in fashion lately, most notably on Mary-Kate Olsen (who, incidentally, has been rocking plaid since at least fall '06).
Weigh in on Elaine's style!
What do you think of Elaine's outfit? We want to know! Leave your thoughts and opinions in the comments below.
Related:
Sidewalk Style: Euro Preppy
Sidewalk Style: Church Glam
See All Sidewalk Styles
More>> Shop Around Blog | Style | Find a Spa