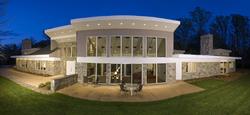 Where: 6113 Franklin Park Road, McLean
Listing price: $2,950,000
Time on the market: Two months
Bedrooms: Five
Bathrooms: Five
Built in 1997, this contemporary home in McLean packs lots of luxury amenities into a one-level space. The most breathtaking feature is the great room, which has a wall of windows and 14 skylights. On one wall are built-in shelves and cabinets, and on the opposite, a large stone fireplace. The great room opens onto the front patio, which looks out over the wooded property. Other neat features include a gourmet kitchen, refrigerated wine closet, and a greenhouse.
Have a tip about a luxury property on the market? Send it to eleaman@washingtonian.com.
More>> Open House Blog | Homes | Real Estate