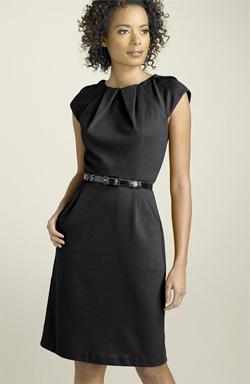 The trend: The detailed black dress.
Look for: If you're going to invest in one new piece this season, it should be a slimly cut, belted black dress with light detailing such as dramatic darts or a tulip-shaped skirt. After the eye-popping hues of spring, fall's palette is much more muted and classically reserved, with black, charcoal, and navy among the most popular hues.
Our pick: As fall's biggest buy, options abound. But we absolutely love this sleek find by Allen Schwartz ($228), available at Nordstorm. It has all the right ingredients: It's both work- and cocktail-appropriate as well as body skimming (but not clinging), and the folds at the neck give it a little extra style.
The trend: The shrunken, fitted blazer.
Look for: Fitted versions that will slip over everything from T-shirts to dresses and still give the body a shapely silhouette. We've seen great options with accents like preppy gold buttons, sleek tuxedo detailing, and textured finishes such as velvet.
Our pick: Truthfully, we stocked up at Goodwill. Most thrift stores have tons of small blazers in the boys department, and at about $5 a pop, the price can't be topped for a seasonal trend. If you're not a thrifter, Urban Outfitters has a couple of chic, midprice alternatives, including the Little Brother Blazer ($68) and the tuxedo-style Equestrian Blazer ($88).
The trend: Architectural features.
Look for: Intricate, unexpected folds, pleats, and draping that add extra flair to an otherwise classic piece. As fast-fashion chains continue to churn out cheap versions of name-brand patterns and palettes, many designers have begun to counter with artful construction that takes precision and effort to replicate.
Our pick: We're currently gaga for anything with a standout neckline, including oversize cowl-neck knits and pieces like this Alice + Olivia dress ($660) from Chickdowntown.com, with its distinctive dramatic collar.
The trend: Anything jewel-toned—especially jewelry.
Look for: Oversize necklaces, cocktail rings, and cuff bracelets to add extra zing to everyday ensembles. If jewelry isn't your thing, incorporate clothing items in deep, autumn-appropriate colors, including saturated purple, inky blue, and emerald green.
Our pick: We love the instant, exotic punch of this jewel-studded Fallon Alexis Collar necklace ($365) from Barneys Co-op.
The trend: A hint of lace.
Look for: The trickle-down effects of Prada's lace-laden blockbuster fall runway collection, which is being splashed across the September issue of every major fashion magazine.
Our pick: These gorgeously detailed Kova & T lace leggings ($110) from Shopbop combine the lace trend with the growing popularity of patterned leggings—and are light enough for the warm temperatures of early fall.
More>> Shop Around Blog | Style | Find a Spa