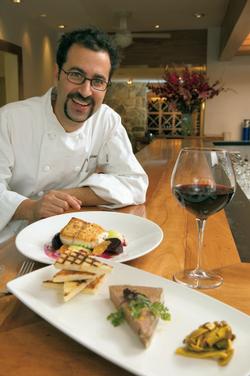 • Rumors have been batting around for months now about the sale of Mendocino Grille & Wine Bar, and yesterday owners Eli Hengst and Jared Rager made it official. They're unloading their tiny, California-inspired Georgetown spot so they'll have time for their other eateries, which include Sonoma on Capitol Hill and the new (and extra-large) Redwood in Bethesda. They're also working on a 14th Street wine bar and a place in Glover Park. The good news for Mendocino fans? Talented chef Barry Koslow is keeping his job—the new owner is Troy Bock, the restaurant's general manager.
• Fabio Trabocchi protégé Nick Stefanelli is manning the kitchen at Mio after the sudden exit of chef Stefano Frigerio, his fellow Maestro alum. But it's not permanent (is anything ever at Mio?)—Stefanelli is just cooling his heels because permit issues have delayed Hint, his in-the-works Tenleytown restaurant, until next year.
• September is National Mushroom Month! And National Rice Month! And National Honey Month! And National PR Promo Month, apparently. We've got no problem with it being National Bourbon Heritage Month, however. Capital Spice has ideas for how to celebrate, and we've got recipes for bourbon cocktails aplenty plus a guide to the best bottles.
• Bill Clinton and Barack Obama lunched at Clinton's Harlem office and chose . . . Cosi sandwiches? Yawn. Especially when they were in the land of Dinosaur BBQ and Charles's Southern Style Kitchen, as Serious Eats notes.
• Columbia Heights is getting a new wine bar on the same block as Wonderland and RedRocks Pizzeria. Paul Ruppert, owner of the Warehouse Theater, is planning to debut Room 11 (3234 11th St., NW) this October. A cupcake shop, upscale burger joint, and fro-yo spot will be right on its heels, we're sure.
More>> Best Bites Blog | Food & Dining | Restaurant Finder