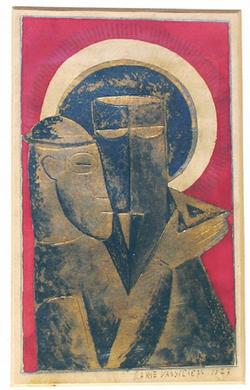 Style > Best Bargains Package
In the '90s, I wrote two Washingtonian articles about all the places my wife and I had found valuable art at a steal—like a Toulouse-Lautrec lithograph for $100 that was worth more than $1,000. Since then, many of the thrift and consignment shops, art galleries, and antique stores we once haunted have closed.
But we still have two favorite sources for well-priced, good art: the Georgetown Flea Market and garage sales.
The Sunday flea market, temporarily in Arlington, is scheduled to return in late summer or early fall to Wisconsin Avenue and S Street (georgetownfleamarket.com). A local institution for nearly 35 years, this remains the best place in the area for bargains on art.
Among the 50 or so dealers, there are several who consistently offer a wide variety of art. My wife and I found a great Wenceslaus Hollar etching of Albrecht Dürer's father, dated 1644, for $25 (it's worth about $150) and an Aristide Maillol woodblock for $65 (worth about $300). Modern Japanese woodblocks are almost always available: We bought a Yoshitoshi Mori of a temple gate for $80.
While several dealers, such as Jeanne Cosimo and Maurice Venne, have extensive knowledge of art, their prices are still well below those of local galleries because they have less overhead. Other dealers may not know what they have or may price their finds to sell.
Try to arrive early, before 8 am. And never pay the initial asking price.
Oil paintings are seldom found at the flea market or at yard sales—except for bad portraits of family members and dogs. You usually find prints: etchings, lithographs, silk-screens, and woodblocks. Look for the artist's penciled signature, edition numbers, or titles in the margins; these usually indicate an original print, as will a plate-impression mark around the work. If a magnifying glass shows tiny dots that make up the images, the print's a reproduction.
Washington's ebb and flow of residents, and their desire to dispose of possessions, is one reason you can find art treasures in yard sales. Among our recent finds are two Paul Jacoulet miniature woodblocks for $35, a Kathe Kollwitz etching of a mother and child for $125, a Pierre Bonnard etching from a cancelled plate for $60, and a posthumous strike of a Rembrandt etching for $90.
Most art isn't appraised except at estate sales—where prices are generally higher—and sellers seldom know what they have, especially if it's inherited. Last year we saw an original collage from the '20s by Marie Vassilieff, a student of Matisse, priced at $120. We bargained down to $90. It's worth at least $5,000.
Do I feel guilty? I operate on the principle of caveat venditor. If it's an item I don't want, I tell the seller what he or she has—gratefulness does come back around.
This article appears in the August 2008 issue of Washingtonian magazine. To see more articles in this issue, click here.
More>> Shop Around Blog | Style | Find a Spa