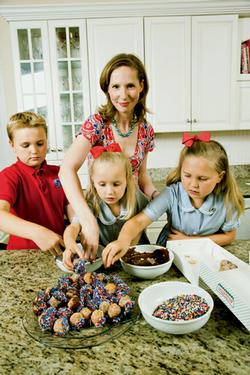 Washington hostess Juleanna Glover entertains so often that she's developed money-saving tricks for doing it.
For standup receptions, she lays food out on a buffet. At Costco, she buys vegetable platters, cream puffs, miniature brownies, black-and-white cookies, rugalach, and beer. She sometimes orders artisanal pizzas from Buca di Beppo, a chain with locations in Dupont Circle and Gaithersburg.
She pays her housekeepers's friends to refill buffet platters, refresh drinks, and wash dishes. She bought several hundred inexpensive white plates and wine and Champagne glasses to cut down on rental costs.
Glover buys Champagne at Whole Foods because she says it's cheaper than at Costco. She also creates a cocktail for a party based on what's on sale. If pineapple is a good buy, guests may be offered pineapple martinis. A signature drink lets her get by with fewer wine and Champagne glasses.
For dinner parties, Glover might get takeout. Favorite places: Shemali's, a Middle Eastern market on DC's New Mexico Avenue; Naan & Beyond, an Indian restaurant in downtown DC; and Moby Dick's House of Kabob, a local chain.
For one of her favorite cocktail-party desserts, Glover buys six to eight dozen doughnut holes and a few tubs of chocolate sauce from Krispy Kreme. "My kids love to dip the doughnut holes in chocolate and then in sprinkles," she says. The pintsize assembly line works for free.
More>> Shop Around Blog | Style | Find a Spa