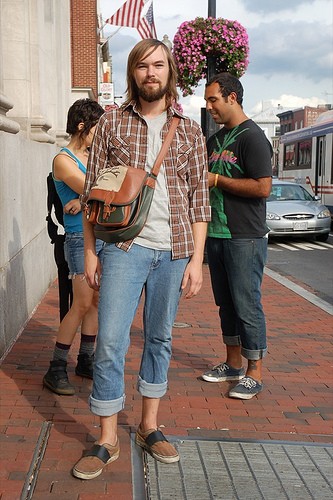 Harper Holsinger, 25
Web developer, James Madison University
What he's wearing: Jeans and (awesome!) bag from Goodwill, a Uniqlo T-shirt, and a plaid shirt he inherited from his friend Christian, who was scraping up money for his now-defunct local band, Mass Movement of the Moth. Harper got his Puma sneaks for free at a College Music Journal party in Brooklyn (Puma was a sponsor).
How would you describe your look? "Fashionable mountain man," he says, laughing at the question.
Why the cuffed jeans? "It's mainly for utility. I ride a lot of bikes."
Where do you buy things? "I'm a thrift-store shopper. You can't beat a $3 deal."
What do you think of style in Washington? "It depends on what part of town you're in."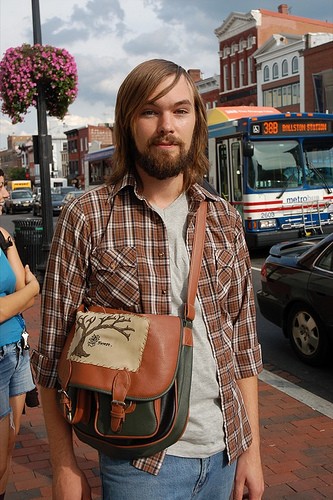 Rachel says: I stopped Harper because he looked like he'd have an interesting perspective, and I really liked the way those cuffed jeans looked on him, although that doesn't look right on everybody. My favorite thing is the bag—I asked him to turn it around to the front—one of those $3 thrift finds. I love a good, cheap score.
Weigh in on Harper's style!
What do you think of this week's Sidewalk Style outfit? Leave your thoughts and opinions in the comments below!
Related:
Sidewalk Style: Bright Days Ahead
Sidewalk Style: Officially Chic
See All Sidewalk Styles
More>> Shop Around Blog | Style | Find a Spa