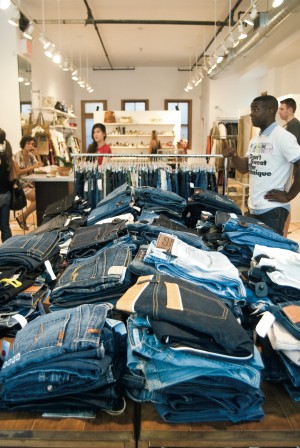 Well-heeled New Yorkers consign clothing at
INA famous for reselling the outfits from Sex
and the City. Photograph by Jennifer Smoose
From the legendary department stores on Fifth Avenue to hip boutiques in SoHo, a New York City shopping excursion can burn a hole in your walking shoes—and your wallet. But finding good bargains—and avoiding crowds at big discounters such as Century 21—is possible.
Here are ten favorite stores for well-priced fashions in the Big Apple.
Anbar Shoes, 60 Reade St., Tribeca; 212-227-0253. This warehouse-style store is a shoe horse's dream. There isn't much atmosphere—the walls are lined with boxes of designer shoes sorted by color, all at close-out prices. I found Stuart Weitzman gold slingback flats marked down from $225 to $49 and black suede Delman heels, originally $320, for $58.
Beacon's Closet, 88 N. 11th St., Brooklyn, 718-486-0816; 220 Fifth Ave., Brooklyn, 718-230-1630; beaconscloset.com. If you find yourself in Williamsburg or Park Slope, check out this clothing exchange that offers lightly used men's and women's clothes, including shoes and handbags, at a discount. You'll find such designers as C&C California, Betsey Johnson, BCBG (a dress was recently $40), Catherine Malandrino, and Diane von Furstenberg.
Calypso Outlet, 424 Broome St., SoHo; 212-274-0449; calypso-celle.com.Known for summery wrap dresses, Christiane Celle's Calypso line is beloved among the Hamptons crowd—but it's pricey. That's why this outlet, a block from a Calypso store, is such a find. Cashmere sweaters were recently a steal at $39, and a sweet cap-sleeve dress was marked down from $275 to $95. If you're lucky, you'll find a seasonal sample sale of Calypso merchandise next door at 426 Broome—they often pop up without warning. I spotted cashmere dresses and embellished cowboy boots, both for $30.
Firefly Children's Boutique, 224 Front St., Battery Park; 646-416-6560; fireflychildrensboutique.com. This shop near the South Street Seaport offers children's clothes by American and European designers at wholesale prices. There are often just a few pieces of each style, so hitting on the right size involves luck. A few recent finds: a boy's madras shirt ($24), animal-print raincoats ($20), and a pink-and-red sundress by French designer Sucre d'Orge ($29).
Gabay's Outlet, 225 First Ave., East Village; 212-254-3180; gabaysoutlet.com. While prices here often aren't cheap, the discounts on designer overstock are significant. On a recent visit, Bettye Muller shoes, regularly up to $400, were $125. Shoes by Cole Haan, Stuart Weitzman, and Manolo Blahnik were also at reduced prices. A Diane von Furstenberg black dress, originally $450, was $150, and a gorgeous beaded Colette Dinnigan frock was marked down from $1,900 to $760. Men's items included a purple shirt from Bergdorf Goodman's house brand, originally $225, marked down to $80.
INA, five Manhattan locations; inanyc.com. This designer consignment chain—best known as the store that resold clothes from Sex and the City—is where the fashionable set comes to sell its castoffs. The wares aren't always Carrie Bradshaw–worthy, but you can find a steal or two. I came across a Nanette Lepore crochet dress ($75), Hudson jeans ($85), and a black Marc Jacobs dress ($150).
Outlet 7, 117 E. Seventh St., East Village; 212-529-0766; showroomseven.com.Well-heeled New Yorkers know about Showroom Seven, which a few times a year holds sample sales of clothes by emerging designers. Outlet 7, a small outpost of the showroom open year-round, sells fashions by the same hip designers at wholesale prices. Recent pieces included a seersucker shorts suit by Robin (around $300) and an eyelet dress by Issa London; there were also items by Orla Kiely and Tony Cohen.
Pearl River Mart, 477 Broadway, SoHo; 212-431-4770; pearlriver.com. This Asian department store has become more geared toward tourists in recent years, but that doesn't mean there aren't worthy finds. A gorgeous cobalt-blue sushi set was $20, Mandarin pajamas for kids were $25, and slippers in a variety of colors were $15.50. Visit downstairs for everything from dumpling steamers to bamboo blinds in a bazaarlike atmosphere.
Tokyo Joe, 334 E. 11th St., East Village; 212-473-0724. This consignment store is literally the size of a closet, but it's packed with discount designer clothing for men and women. I found Theory jeans ($19), a men's Prada shirt ($58), and a Betsey Johnson floral dress ($30). Evening gowns hang on the walls—recently, a beaded Vera Wang was $130. The one dressing room is right in the middle of the store, so don't expect much privacy.
Uniqlo, 546 Broadway, SoHo; 917-237-8811; uniqlo.com. Entering the US flagship of the store known as the Japanese Gap, you'll feel as though you're in Tokyo—a selection of kimonos ($59.50) hangs near the entrance, and the store has a spacious, modern design. Look for well-priced basics: jeans for less than $60, men's polos for $29.50, and solid-colored shift dresses for $39.50. Designers such as Alexander Wang have created collections for Uniqlo; a black-and-gray vest dress by Wang was $69.50. The basement is where items are deeply discounted.
This article appeared in the September 2008 issue of The Washingtonian. For more articles from that issue, click here.
Get More Fall Weekends
→ The Best Vineyards in Virginia and Maryland
→ Cute Shop, Hon: Great Stores in Baltimore
→ Delicious Day: Dining in Leesburg
→ Getting into New York's Sample Sales