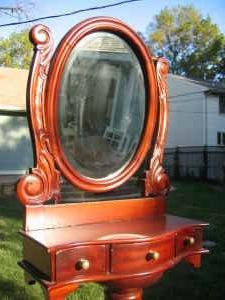 This antique-style cherry shaving stand is $45 in Arlington. It has three drawers, a small table top, and carved claw feet. You could use it in a bedroom to store jewelry or make-up, or put it in an entryway with a vase and flowers for a unique look.
Other good finds:
• Wood storage bench for $25.
• Brown leather glider chair for $250.
• Crib with matching dresser/changing table for $500.
• Cherry coffee table with matching trays for $50.
• Fifties-style formica dining table with six matching vinyl chairs for $175.
Thanks, Craig!