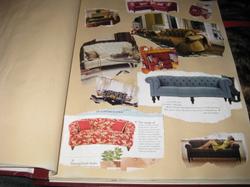 The most time-consuming part of my renovation was not finding a contractor, creating a design plan, or even building the new kitchen. The part that slowed me down the most came down to one question: What do I want?
In most cases, homeowners are inspired to renovate by what they loathe about their current homes, not necessarily by their visions of the future. And although any of us can decide whether we love or hate a room when it's in front of us, that's a far cry from adding new cabinets, counters, paint, blacksplash and appliances to a blank canvas. Where do you begin?
First, I hit the decorating magazines, and I hit 'em hard. I probably spent hundreds of dollars amassing a library of what are basically picture books. Anytime I found something I liked, I tore it out. I didn't analyze why I liked it, or which detail attracted me to the photo.
I did that with everything from furniture to bathroom soaps to paint colors to countertops. After I had a pretty tall stack of magazine clippings, I glued them into a photo album. The process felt fairly geeky, and I wouldn't be admitting it to you now if there hadn't been such a pay off in the end.
I grouped things in the album so, for example, I had a page of couches and a page of kitchens. After a while, themes became obvious. I found that I loved open shelves, white kitchens, natural wood, staggered-subway-tile backsplashes, tufted couches, and bright punches of color. I learned that white tiles that are also grouted white look like they belong in a grade school bathroom, and that I preferred almost any light to the overhead fixtures in most kitchens.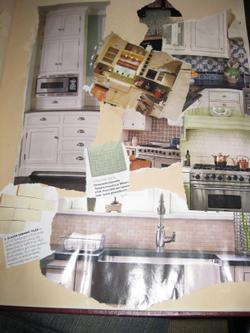 When it came time to make design decisions a year later, it was easy because I had already developed a look in my mind. Even better, since I developed this kitchen look at the same time that I was buying furniture and making other decisions for my condo, I felt like I had something cohesive—the living room and sun room could easily coexist with the kitchen and breakfast nook.
I have even better news to report, though. In the time since I began this process, technology has progressed so that the rest of you don't have to be craft dorks like me. Instead of pasting magazine pictures into a book, you can do it digitally with applications like Polyvore and Domino Magazine's Deco Books.
I also read every decorating blog under the sun and discovered a few favorites: decor8, Design Sponge, Desire to Inspire, Bossy Blog, Remodelista, and This Young House. If you are interested in design and haven't discovered this vast world, you are going to lose a work day or two when you do.
However you do it, the idea is to lay your eyes on every possible option and combination out there. I'm now applying that system to the bathroom, and I'll have some pictures soon. In the meantime, I am trying to keep the home-improvement momentum going, so I don't get too comfortable with the new kitchen and call it a day.
You would not believe how long it is taking to paint all of the baseboards, doors, and window frames. Whenever I have downtime—time other people spend watching TV or talking to loved ones—I slave over baseboards.
Tomorrow, I will get an estimate to repair the half dozen or so weak boards in my floor that threaten to give way whenever someone steps on them. This is one of those home-improvement jobs for which I have no concept of price, so it is especially nerve-wracking. Maybe this will be the one renovation project that will surprise me by being inexpensive…
Daphne writes about her renovation every Tuesday. To read Daphne's remodeling adventures from the beginning, click here.
More>> Open House Blog | Homes | Real Estate