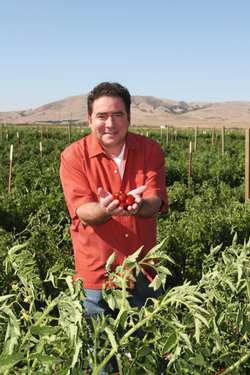 • Washington-based cooks are showing up all over TV—a couple of weeks ago, we found out that we'll see a hometown girl on Top Chef—and now Emeril Lagasse is holding casting calls for Emeril Green, his new show on the Planet Green network. For those amateur home cooks who want to apply, here's our best tip for getting a callback: practice saying "Bam!" while you add your final pinch of salt.
• The Ann Arbor foodie haven Zingerman's, a warehouse-size gourmet-foods store, shocked customers when the cover of its most recent mail-order catalog featured a pretty brunette with a ponytail and rimless square glasses. No, the store assured worried callers, it's not Sarah Palin. Its Vosges Chocolate founder Katrina Markoff, who may just trump Tina Fey as a Palin doppelgänger.
• McCain wins! Er, Cindy McCain that is. Her controversial oatmeal-butterscotch cookies bested Michelle Obama's shortbread cookies in Family Circle's well-documented bake-off. Her victory was a narrow one, though, and the magazine claims that since it started the contest 16 years ago, the cookie winner has always become the First Lady. Who needs pollsters when cookies can predict the victor?
• Bailout or dine out? It seems that many Washingtonians are opting for the latter. The Washington Post's Jane Black reports that although some restaurants in the area have suffered, others—including fine-dining establishments—are experiencing record-breaking sales. The reasoning? The government is a big employer and it's not going out of business anytime soon, so diners aren't worried about losing their jobs. We know of at least one government employee who didn't let the economic woes stand in the way of a restaurant dinner.
• No Washington restaurants made the cut for Esquire's annual best-restaurants issue, but Enzo Fargione, the new executive chef at Teatro Goldoni, did get a nod as a chef to watch.
• The District Domestic tells us that Geoff Tracy will lend his first name to another restaurant, this one in Tysons Corner. Tracy, who owns Chef Geoff's in Wesley Heights and downtown DC and Lia's in Chevy Chase, will open his largest outpost in the former Colvin Run Tavern space.
• Top Chef fans will have a tough decision to make on November 12, when the show's fifth season premieres: stay home and watch or DVR the episode and meet one of the cheftestants in person? Washingtonian contestant Carla Hill is teaching a two-session cooking class at new cooking school, CulinAerie, and the first class conflicts with the show. What to do?
• Food + Wine's Jen Murphy called Jamie Leeds's Columbia Heights gastropub CommonWealth "awesome" with an "impressive" beer list. But it was the staff's uniform—cotton T-shirts (and jeans)—that prompted her to write about the new restaurant on the magazine's Mouthing Off blog. Of the three organic tees, Murphy was most taken with the beer-butcher style.
More>> Best Bites Blog | Food & Dining | Restaurant Finder