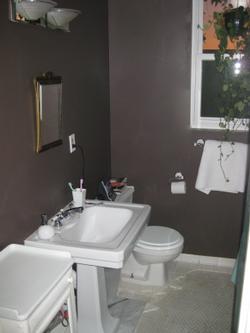 Confession: This is the blog post that I have dreaded the most. The truth is, I don't want to tell you about all of the mistakes I have made in my bathroom. I suppose I should be glad that I confined most of my mistakes to the smallest room in the apartment, but it is also a room that is impossible to hide.
More painful than telling you about all of my bonehead errors, though, is actually revealing a photo of a hideous room that I have systematically uglified over the last year. That's not to say I liked how it looked when I bought my place, but at least it was whole.
My first action as a homeowner was to yank the medicine cabinet off the wall. It was a clunky piece that stuck out several inches, and it was oddly matched with a wooden toilet seat, which I replaced with a white one. Where the medicine cabinet once hung, I put up a too-small mirror I happened to have. It was supposed to be temporary.
Then came my first foray into paint. I always fancied myself the kind of decorator who would go for bold and bright colors. As I poured over dozens of magazines, I couldn't resist the trendy chocolate brown walls I saw everywhere. Then, in a misguided attempt to soften the look, I painted the ceiling pale pink.
I stand by those colors—if they were in a different room. I used glossy paint because of the bathroom's humidity. What I didn't realize was that dark, shiny colors highlight every flaw in the walls—of which there are many. Also, the colors made the small room feel even smaller.
There's more. When I learned from a neighbor that my boring, white square tiles were likely laid directly on top of old-school hex tiles, I was excited. I found a discrete spot in the corner of the bathroom, and used a screwdriver and a hammer to chip out one tile. Indeed, small unglazed hex tiles were hidden underneath.
Maybe there are people in the world who can pull up one tile and then return to their daily activities. I am not one of them. Obsession took over, and before I knew it, I had pried out almost a whole floor of boring white tiles, revealing a whole floor of charming, but cracked and old, hex tiles.
Now that I have come clean on my role in my hideous bathroom, I can make it right. The bathroom must be fixed. Unlike the kitchen, which was gutted all at once and rebuilt, I plan to restore the bathroom one project at a time. The danger with this method is that it's easy to drop the ball, but I am lucky to have a natural deadline: My family is coming for Thanksgiving, which gives me one month to make a major difference.
Unfortunately, using a piecemeal approach doesn't really get me out of making all of the design decisions at once if I want a cohesive look (and I do). So, in the face of a lot of work that has to be done quickly, my modest goal for this week is to settle on a loose design plan and start painting.
When I started the kitchen, I insisted that I wanted to make changes to improve my own quality of life, rather than to obsess about how much money a buyer would be willing to pay one day for my decisions. Maybe it's the constant talk of the tanked real estate market, or maybe it's that I find myself daydreaming about upgrading to a house in a couple of years, but my attitude has changed.
After pouring most of my savings into the kitchen, my hope is to keep the spending low on the new bathroom. Before I pick up a paintbrush I'm going to talk to my realtor about which changes will be the most lucrative and how much I should spend overall. Why not improve my quality of life and my property value?
Daphne writes about her renovation every Tuesday. To read Daphne's remodeling adventures from the beginning, click here.
More>> Open House Blog | Homes | Real Estate