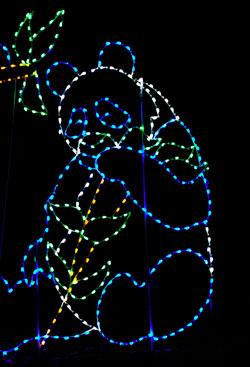 Since this was such a popular event amongst our readers last year, we thought we'd give you the heads up: Tickets for the National Zoo's second-ever ZooLights festival have just gone on sale, and the festival itself will open up on November 28.
Never heard of ZooLights? It's a large display throughout the zoo of more than 50 custom-designed light sculptures that highlight zoo animals. Ever wanted to see little Tai Shan as a huge, LED-lit sculpture? Who hasn't? Well, ZooLights is your chance. There's also live music, hot chocolate, and other activities to be enjoyed.
Tickets are $12 per person, and can be purchased here, or in person at the zoo's visitor center.